Sunday, August 12, 2012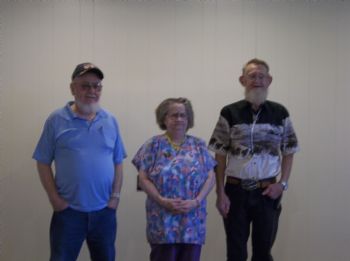 Family reunion was great. This is a picture of my dad (the one in the ballcap) with his sister (the only sister he has) Lola and youngest brother (by 10years) Tom. Dad's oldest brother Francis (the one that I've been talking about) didn't come and he's 6 years older than dad. There was a lot of food there but not much was taken of my macaroni salad so I guess we will be eating it here at home. I'm glad that I didn't make deviled eggs because 2 other people brought them.
I'm sad to see the Olympics over with but happy with the US Men's Basketball team winning gold today. Saw the finally part of the 3rd quarter and the entire 4th quarter when they beat Spain 107 to 100. But got to see the group Queen peform (the surviving members Brian May and Roger Taylor peform) and they shouldn't of had the gal sing with them. She screwed up the song We Will Rock You really bad.