After fighting it for the better part of this week I have finally come down with a full blown cold! URGH!
I am glad I got my run in yesterday because It will not happen tomorrow, that is for sure...and that is okay, I can have 2 days OFF in a row without it affecting my program as long as it is only once a week.
Hot tea! Vits, green tea...cold fx...I am doing all I can to get better quickly. Oh yeah, and no sugar!~
Today for the first time I had some bread that is heavy, dark Russian Rye bread. NO sugar! Whole grain bread and I am going to see how my body responds to that! Not that I will eat it often, I just think that bread like that offers nutrients that I might not otherwise get. If it does not affect my weight or blood sugar then I will have it on occasion.
My husband did not like it, too healthy for him! lol
To me, it has so much flavor compared to the boring old refined bread and whole wheat breads out there that masquerade as whole wheat, but are really white bread with added stuff to make it seem like whole wheat bread.
If it says "Enriched flour" beware, that means they stripped so many nutrients out of it that they had to be added back in after the fast.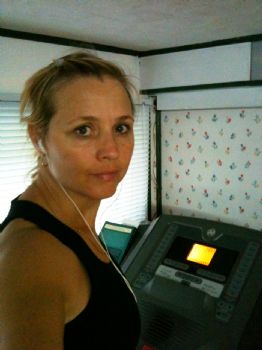 This is me on the treadmill finishing off week 8 of C 2 5K!
I have lost 5 pounds so far and you know what...I can notice that I look younger and my face is not looking as tired and stressed and I almost feel younger! How awesome is that? And I am using less make up!
My trainer kind of moaned at me because I am not doing weights on a regular basis like I should , but I plan to do something about that. MY DH worked on tidying up the basement and putting away the last of the camping stuff from our trip. That means that it will be easier to resume my weights work out but I really want to switch to using body weight and not so many "gadgets" if you know what I mean?
Tomorrow is Monday, how did the week go by so very fast?
I hope that you all had a fantastic weekend.
Before I end off, one last little victory.
For those who have known me a while I was always dessert queen. My motto used to be " life is uncertain, eat dessert first"....
until I realized I had to get rid of sugar and refined carbs in my life.
Well I told you in a previous, but recent blog that we had family over and I completely forgot to prepare a dessert, never even crossed my mind. I had fruit!
Today we had family over again and you know what, I dug in my cupboards and in my freezer and I just could not come up with a ready dessert for them. I just did not have a stash of cookies or cookie dough or anything to offer them.
I had a few Maria cookies ( Marie biscuits) and that was it!
SHOCKING!!!
BUT OH WHAT A GREAT FEELING!!!
I am free from the slavery of having to have dessert! finally - after all these years of struggling.
In fact about 1 - 2 months ago I told you about my new discovery of PALM SUGAR CHOCOLATE! Approved by my trainer for me to have...well I bought a slab just before going camping, I took it camping with me, and I brought it home, it looks a little worse for wear, but guess what, it is intact still!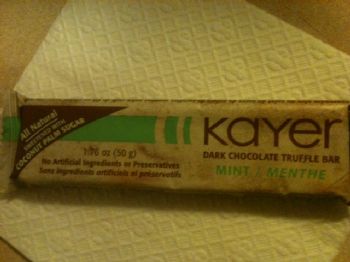 It is there, and I know it is there, but I have found healthier options and I realised that my need for chocolate was an emotional one, not becasue I actually needed the chocolate. In fact I proved it when I had 100 % sugar free chocolate ( it is REALLY BITTER)... I could eat a little and be satisfied, but if I had chocolate that had even a little regular sugar in it, I JUST COULD NOT STOP EATING IT! ( SAME WITH ICE CREAM)...
I always thought I was a chocoholic, I was wrong, it turns out I am or was a sugar -holic.
So happy to be free!