Pay attention
Sunday, August 12, 2012
This one's for Linda; Sometimes we just have to infuse ourselves into kid's lives and activate our inner child to hear the things we're supposed to be hearing.
This is my grand nephew. I took him shopping, and had to ask him to pose for a picture as he described the item that caught his eye again to me, because I loved his explanation of it.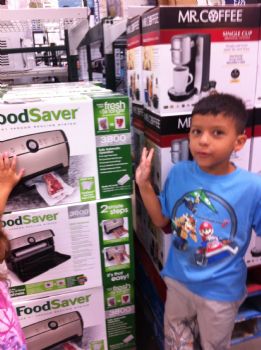 "This is a printer that prints out FOOD!"
I think this wise young man has solved the problem of world hunger, at least in his imagination.
May everyone find at LEAST 10 gifts for which to be thankful today, and give thanks for those simple pleasures.
Blessings to all!