Saturday, August 11, 2012
Tonight I finished my 11th 5K of the year. No big deal right? Well, let me tell you a little about the slowest 5K event I've ever participated in...
Yes, even though the official times won't be posted until tomorrow afternoon, I already know my time! I finished the race in 1 year, 11 months, 28 days, 45 minutes and some odd seconds! Definitely my slowest race ever!
I was training to do this race as my 1st 5K event in 2010 when on July 30th I felt something bad happen to my knee during my evening workout at the Arboretum (a great local 2-mile loop with gently rolling hills). Two years and 2 MCL surgeries I'm truly more fit than I was, more determined than I was and definitely 38 lbs lighter than I was.
A big thanks to my coach, Mary Kate and my faithful supporters Joe (DH) and Joseph who were kind enough to lag behind and finish beside me instead of in front of me! Love you guys!!!!!!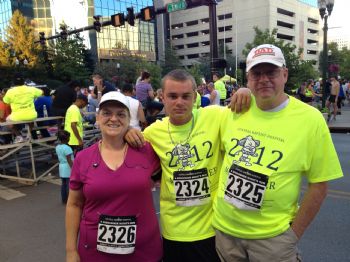 Oh yeah, I can't forget my SparkPeople cheering team either. Thanks everyone for your kind supporting words during the most recent part of my long and continuing journey!!!!