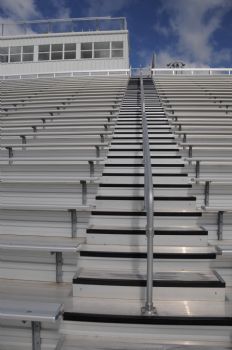 Last year I was asked to be crew chief of a new crew for my son's high school marching band. He was new to the school, having changed schools between his Freshman and Sophomore years. Lafayette High School has one of the premiere marching bands in the state. In fact, they are participating in the Tournament of Roses Parade on January 1st, 2013, but that's a blog for another day! This new team would be responsible, not only for photography of the band on the field at each performance, but we were going to live-stream each home football game half-time performance and concert of the season. COOL! Right up my alley! No problems...
I did not think when I took on the task about the stairs at the stadium! As I climbed the stairs each week for equipment setup, I felt I'd die before I made it to the top! There were so many steps! I hated steps! After my knee surgery, stairs were avoided. Elevators were my friend! Two trips up the steps and I was beat... That was last year!
Tonight was the Parent Preview Performance, a big deal where parents and alums gathered to enjoy a taste of the season's new show, have a meal, greet old friends and watch as the students showed off what they had been working on for the past 3 weeks of band camp.
I first had to get my equipment bag, a small wheeled suitcase full of gear and cables up the stairs. A small suitcase that weighed about 30 lbs.! I managed and although somewhat sweaty, I was surprised that I was not winded. One of my crew set up the field camera while I worked on getting the internet connection going and a 3rd set up the camera on top of the press box. It was almost showtime... We were a crew member short! Who was going to run down and operate the field camera? All those steps!
You guessed it! Me! Going down was easier! And I had to jog around the back of the stadium to reach the camera setup before everything got started! No problems!
The performance went off without a hitch and the live streaming was accomplished. As I jogged - Yes, JOGGED up the stairs after the performance, I was exhilarated! As I jogged up, I couldn't help thinking about those commercials where the athlete used the stadium bleacher steps as a training aid! I made it all the way to the top. In fact, I did it a second time later in the process of equipment breakdown.
I'm no longer daunted by Stairs. Next weekend, we do it all again - this time it will be a real half-time performance. Maybe I'll bring my running shoes and get a couple of reps in before the game! Bring it!