Friday, August 10, 2012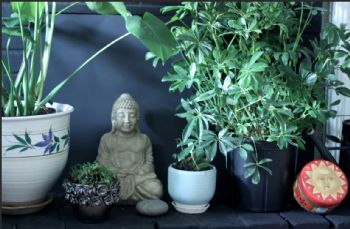 The little indoor Zen garden I'm trying to create in front of the fireplace in my work room.
Today:
Make calendar and write down your weight and check off days you work out.
Write down your workouts and intensities
Start back with My Fitness Pal on Monday
Yesterday: Was great, I had a lovely day. The housekeeper showed up, the orders were sparse and I had.....and afternoon free. I got in a long walk (about 2.5 miles) in the afternoon and did about two hours of housekeeping up and down stairs which isn't too bad either. Boring....okay...
Last night I didn't sleep. Probably got a little too overly excited about a lovely day so at 3am I finally took more pills to get to sleep. Over night a hoard of orders came tumbling into the inbox. That's good, you know, orders=money but I have one eye open today going -- am I awake? I don't feel awake? What am I doing again? The #1 printer is broken? Hang it I'll use #2 and worry about fixing 1 later. I have no concentration. I'm in a fog so thick I need a bullhorn.
I'm batting about 2:3 meals healthy. But uh' two out of three isn't great, it's better than nothing I guess but I need to figure out how to wiggle that to 3:3 on most days.
The problem, healthy meals are complicated meals. Pizza - someone hands it to me. i eat it. Healthier meals aren't gourmet masterpieces of puzzlement but a person does have to think in new ways. They're not as grab and go.
So I'll keep at it though - this is week 1 and for week 2 tracking is a major part of my strategy.
Peace everyone - have a great day!