I decided to not wait until Day 15 to give a report on how I'm doing. This is a complete life change and I want to remember what it was like, so I'm going to try to write about it often so I can go back later and realize how far I came.
So.....Day 1 was Monday. That wasn't too bad. I was still high in motivation and full of determination, which helped me stick to it 100%.
Tuesday was a little different in that I got up feeling like a BEAR! Edgy, anxious, bothered by every little thing. I had a Miche Party to go to....I just sponsored a new rep. and I was going to help her out and bring some of my inventory. Of course, part of fun of the parties is the big spread of goodies. I made sure I had enough to eat before I left and I managed to get through it with just a bottle of water.
Wednesday I was still being a bit irritated and antsy when I got up. Two of our grandsons (the 8 yr. old and 14 yr. old) came in the morning to stay with us until Friday a.m. They are great kids and I love having them. I do spoil them though, particuarly with food (I'm just like my mom in that regard!). We went to Watkins Glen and walked the 1-1/2 miles to the top of the gorge (which is mostly STEPS!). i was tired and dragging a bit. At the top is a little snack place and they all had nachos and cheese while I sat and tried to concentrate on the view. We took a trail the 1-1/2 miles back.
We stopped at a diner for lunch. They were eating yummy sandwiches, french fries, and fried onion rings. I had my salad with chicken and vinegrette. We got back in time for me to do an hour Zumba class. I was still dragging and didn't have as much high energy as I usually do. That's a positive because I take that as a sign my body is detoxing.
We grilled hamburgers for dinner and corn on the cob. I just had a hamburger w/ no roll and steamed zuchinni/summer squash (which tasted delicious!). I cleaned up the dishes while they all walked to the corner ice cream stand to get cones.
Thursday was more of the same. I had made blueberry muffins and bought these mini cupcakes for them and made grilled ham & cheese sandwiches while I ate leftover hamburger & squash for lunch. I managed to go for my 5 mile walk in the afternoon despite how hot it was. Grilled chicken for me for dinner. DH made my favorite, breaded & fried zuchinni but I stayed away from it and ate a sweet potato and some Brussels sprouts.
This morning we made pancakes (another favorite of mine) but I had a scrambled egg with some canteloupe and blueberries.
Today is the 14 year old's birthday (now 15) and yesterday I baked his favorite cake. Another BIG victory for me is that I didn't lick the beaters like I always do...straight into the water they went! It goes without saying that I will not be eating any cake.
I am SO very proud of myself!! I am sticking to my commitment to stay off the scale for 30 days too. I have a doctor's appointment this afternoon for a check-up and I'm going to get on the scale backwards and tell the nurse not to tell me what I weigh.
Here on Day 5 I've FINALLy seemed to have gotten past the edginess and overall bad mood I was in off and on during the past 4 days. I'm feeling a little less bloated. I'm not craving sugar and bread anymore.
It's been so busy with the kids here that I haven't had the time to get back to meditating yet. I do plan to though. I think it will help me a lot when things get tougher again. My pattern has been to hit the wall even after 2 weeks of solid compliance and this time I want to be ready for it. I know that even with meditation, it takes time to see results.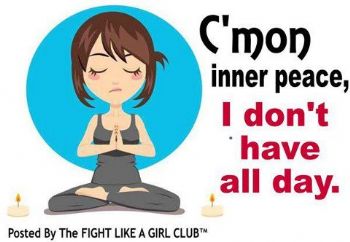 The one thing I do have presently is the belief that I CAN do this and keep doing this. That's probably the most important element of success when making major changes.
So far, so good! I'll be checking back in after several more days and I am anticipating another good report. Stay tuned...........