The business is certainly making a comeback from its hiatus when I was sick! Iíve been really busy this week working on orders, trying to score new clients, and branching out to find more jobs. It feels really good to be back into doing what I love. We even had the first official meeting of our study group since I have been sick! Also, for next week I am back to doing my workshops teaching holistic practices for the health and the household! YAY!
I ended up getting several orders done. Here is a pic of the product for the gift baskets I was making: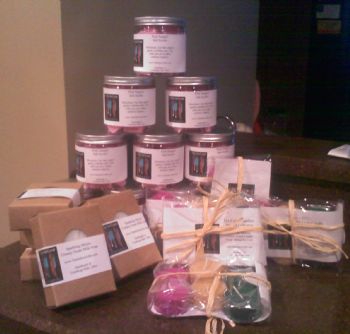 In the jars is Pink Sangria Salt Scrub Cubes, the boxes are creamy goats milk soap scented in Sparkling Mojito, The tea lights are Island Colada, Berry Mimosa, and Margarita Lime. I also made extra to hand out as samples. The Island Theme went over VERY well with my customer which has scored me a preorder for Christmas! YES! :D
Every few days or so in the week I have been ending up at my dadís for a visit as I feel like I have to make up for all the lost time. Iíve missed him so much! He finally got a new laptop my step mom snapped up for only $195 when there was a sale going on at Walmart and she just happened to be there. Wow! She got the last one too! So, I helped him set it up, tweak his personal settings (including putting a picture as his background that he insisted he have of me and his 145lb dog sitting on the couch together. First full body shot of me I have taken in YEARS and I only did it to humor him. How embarrassing! If thatís not motivation to lose weight and get that pic retook I donít know what is!!!...and NO I cant bring myself to post the pic here! lolz), and showed him the differences (operational and maintenance wise) between laptops and desktops see as how this is his first laptop. I got a call the next night saying he couldnít get on the internet so over the phone I walked him through and then it hit me! Someone pressed the wireless button on the keyboard. Since where the button is at varies from model to model I quickly googled his and tried to explain to him where it was. He was lost. I told him I will be over tomorrow to fix it. The next day I walked in, clicked the button and he laughed. That was one of the small differences I showed him but I think he was overwhelmed with information so while there I took to writing down my recommendations including getting a laptop cooler and a wireless mouse. ;)
While visiting my dad he commented that I looked as if I was losing weight. I told him I didnít know if I was but my pants are loose. Iíve not weighing myself because I find it discouraging. Itís all said and good when I am losing but when I am not or I bust butt all week to somehow gain 2 pounds back it makes me want to scream. Iíve learned just to stay away from it and go by feeling. He asked me what I was doing and eating so I told him about my lifestyle changes and work out plan. He seemed most impressed. Then he said, ďYou seem most serious about all this.Ē I told him I have to lose weight if I am to get better. I maybe off all my meds but I do not want to go back to where I was when I was so sick with the main culprit at the bottom of it all being my weight. He agreed and said, ďWell, there is something I want to get for you to help you if you think you will use it.Ē It turns out he wants to get me one of those total gyms (yanno the ones that Chuck Norris hocks lol) to add to my work outs. I already have a mini gym in my house and it would fit. I think it would be a great tool but I told him he didnít have to go and do all that. He said he wants to though. I cannot talk him out of anything once he sets his mind to it so whatever. My dad just remembers me in high school working out all the time in the mini gym we had in the basement when I was growing up. Perhaps he thinks me having Chuck Norris' work out machine will help me up my game and gain Chuck Norrisí unbeatable strength. lol Plus this is his way of wanting to help me from his position in a wheel chair. I gotta say though all that makes me uncomfortable but it is what it is. Maybe I need to be uncomfortable to motivate me even more.
I still have so much more stuff to get done this week! I am still working on unpacking the house which I am getting done a few boxes at a time. Probably if I fully commit a few days to it I will be done. However, I find if I unpack a few boxes I have more success finding organized permanent homes for the stuff plus I can get other tasks completed. I am hoping by fall all will be unpacked and the house will be complete.
Ok, its off with me. I have to switch loads of laundry and I NEED to get a work out in! :D
Hope everyone is well!

Talula
Funnies: