Even though Brady is my middle son, I saved his story for last. It's hardest to write I think because Brady and I are so much alike, it's scary. I think for that reason when I see some of the things Brady is going through now at his age of 34, I think, "I wish I could show him that there are better ways to do things than that, I wish I could give him the wisdom of my years so that he doesn't have to go through the painful things he endures every day."
But just like my own parents, I can't make him see the light. Both my parents lost a lot of weight, my dad more than my mom, who was never very heavy, not long before Mom passed away of a sudden heart attack. I know they hoped they would serve as an example to me, who needed so badly to lose a lot of weight. I remember giving Mom a hug that last time I saw her and thinking to myself, "She's a tiny woman." Brings tears to my eyes now. Do you ever get over missing your Mom? She's been gone 22 years and while it's not the raw pain it was for so long, there's still an ache. Nobody ever loves you again like your mother did.
But back to Brady's story. Brady was the smallest of all my babies, weighing in at 8 lbs. even. He actually arrived a little early, about 5 days, according to my due date, unlike my other two sons, both of whom were overdue! Brady & his older (by 5 years) brother Mark never got along too well, at times I actually thought they hated each other. Thank goodness, time has changed that and now, if not best friends, they are pals and get along pretty well.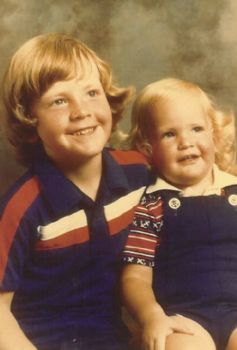 Brady was overweight almost from the beginning. I thought it was baby pudginess, like Mark had. Until he started walking at 9 months, Mark was a very fat baby. But he must have walked it off, because he was a skinny toddler and young man. Brady didn't lose that baby pudginess however.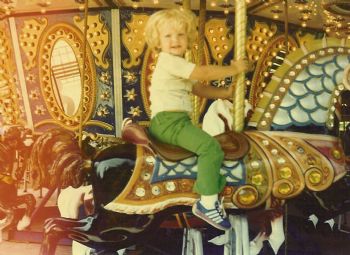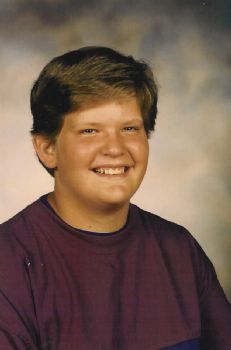 He was heavy all the way through school, and I often worried about how much he must have got teased about that at school. For the most part I avoided that teasing that fat kids endure at school. I didn't get morbidly obese until I had been married a few years.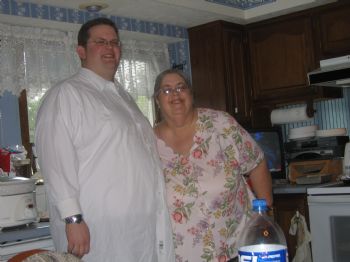 Brady & I, the day he graduated from high school. (My gosh, I wore this blouse a lot. I think half of my "before" pictures, I am wearing this pink flowered blouse!)
He did have some good friends and was best man at two of their weddings. Sometimes when you have good friends, it helps with the teasing you get from the mean kids!
After high school he started college, but his heart was not in it, and he skipped most of his classes, leading to him dropping out after one semester. He had worked at the bowling alley during high school and that became his full-time job for the next several years. Since it didn't pay well, he got into some real financial trouble and his big brother bailed him out. I worried that Brady was "spinning out of control." Oh he didn't have REAL problems, like with the law or alcohol or gambling, but he was lacking in self-discipline about almost every aspect of his life. He would go to work, but he had way too much time to play. He played a lot! He lived at home and that led to constant conflict between us. He was messy and didn't clean up after himself. As an adult, he was acting like a "guest" in our house, and I felt he should be a contributing member. As I mentioned, we are a lot alike, and I think that was the cause for a lot of our fighting too. I saw myself in him, and still do to this day.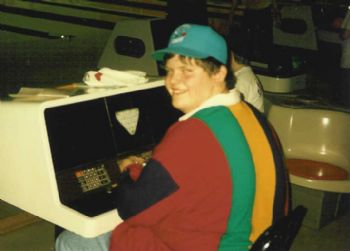 At work at the Bowling Center.
Like his dad and brothers, Brady loves sports. He participated in baseball and football as a kid and is a good bowler. He is a sports fan too but rarely attends any live events, fearing the size of the seats in the arena will be too small to accommodate him. I remember those days. He didn't go along with the rest of the family when we went to Worlds of Fun last week either, knowing he wouldn't fit on any of the rides anyway.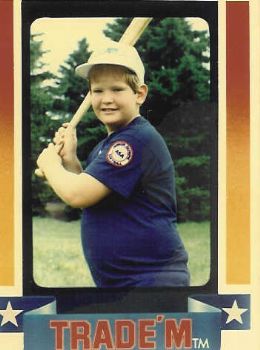 Around 2005, he met Ann, on-line. Ann is a lovely young woman, and when he finally brought her to our home and introduced her, we instantly fell in love with her too. They soon were engaged and planning to build a home.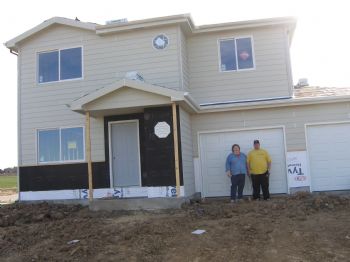 By this time, Brady had a decent job as an overnight computer operator. Prior to their wedding, Ann & I attended an informational meeting about lap band surgery. But my insurance wouldn't cover any weight loss surgery, and Ann's would only cover the more invasive gastric bypass, which she had in May of 2006. She had some complications after surgery and was in intensive care for a few days, but did go on to lose 75 lbs. and was was looking pretty good at their wedding in August of 2006.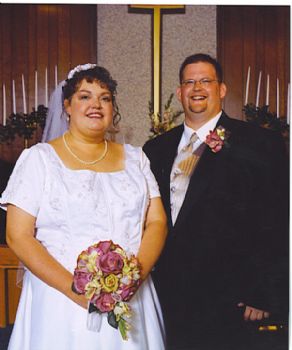 Since Ann is about 6 years older than Brady, and was already 35, they decided they should start a family SOON! Of course, they had trouble conceiving, partly due to their obesity and this led to them becoming foster parents. Mia, who will be 3 in September, came to them two years ago with her young 17-year old mother. But when her mother aged out of the program, turning 18 last November, she had to move out, but could not get custody of Mia, who remains with Brady & Ann.
Ann struggled with her weight loss plan, and after they were married, she quickly regained those 75 lbs. Brady too was gaining rapidly, and soon weighed in at over 500 lbs. He knew he needed to lose weight, because he was threatening his health, but Ann was not on-board, which made it even harder for him. But he did make some changes to his lifestyle, limiting his fast food consumption and cutting out his beloved Mountain Dew addiction. That led to a loss of over 100 lbs.. during the time I lost my weight. The last he told me, he was weighing in the high 300's. He is tall, about 6'4", but that is still too much weight. In October last year, Ann joined Weight Watchers at work, and has lost almost 70 lbs. Of course, Brady is not on board with her this time. His weight loss has stalled, I'm hoping he hasn't gained any weight back, it's really hard to tell when a person is very obese. If those two ever get together in their weight loss attempts, I know it will be easier for both of them. But like most of us who fight our weight, they love food. They eat out a lot, and for now I think neither is losing any weight, although Ann continues going for her workouts at the gym she joined, almost every day.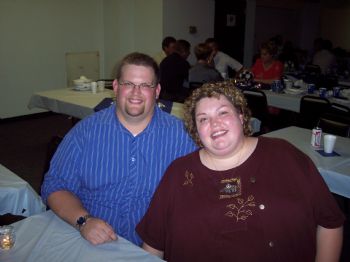 Brady has a new hobby which he is obsessive about. He has discovered geocaching. I think that obsessiveness is part of an addictive personality. A person like that (and I am one as well) never does anything casually. We go overboard and get totally involved in anything we start. I am that way now about my maintenance, but I realize that is a healthy obsession, one I must stay with in order to keep the weight OFF!!
Brady & Ann with their nephew, Duncan. How they long for a baby of their own!
Brady says he gets a "high" when he finds a geocache, and has set a goal for himself, that he must find one cache every single day. He belong to a club, and they give prizes for this obsessiveness. The geocaching hobby has helped him get exercise in, as often the caches are hidden in very reclusive places, which leads to much walking. That part is certainly good for him. Because he has found all of the hundreds of geocaches hidden in this area where we live, now he travels all over looking for new caches. Like I said, it is obsessive.

Brady is the most thoughtful and caring of my boys. He is very sentimental and loves his family very much. He adores their three dogs and Mia, of course, as well as Ann. I am content that both of my married sons seem to have found their soulmates. I do worry about Brady. His weight is not healthy, and just like I'm sure my parents used to worry about me, I wish he could find the drive he needs to make getting healthy an obsession the way I finally did. I am hopeful he will find that within himself sooner rather than later, and not wait until he is almost 60 before getting healthy. Like I said, he is so much like me. I love him, I worry about him, but I have lots of hope for his future. He will be 35 years old In November, some people call that middle-aged. At my age, 35 still seems very young, but it also is an age, where you need to look at your life and where you're going and perhaps make some changes. I hope Brady can get back on his losing path so that he is around for many more years, to enjoy all that life has given him.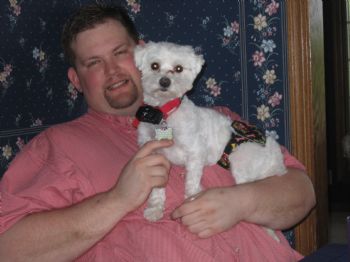 Brady with his Maltese, Puddles.
This was the hardest of the three blogs I wrote about my sons. Brady is a talented, loving, caring and wonderful person and I feel like all I have written about is his weight. Like all of us, Brady is so much more than his obesity. Sometimes I (and you would think I would realize this more than most) forget to look past that overweight outer surface, and into the great man he has become.
I will conclude with a few pictures of all 3 of my boys through the years. Haven't they grown into fine men??? I am very proud of all 3 of my sons!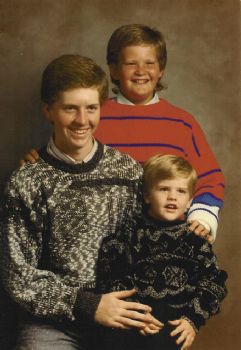 1989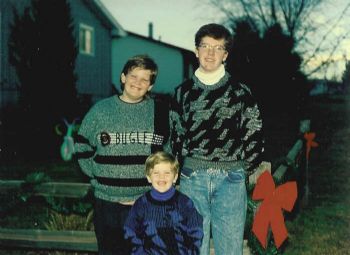 1990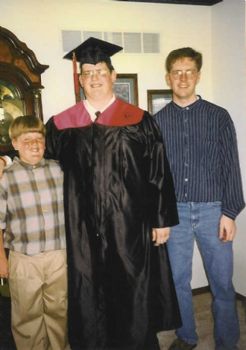 1996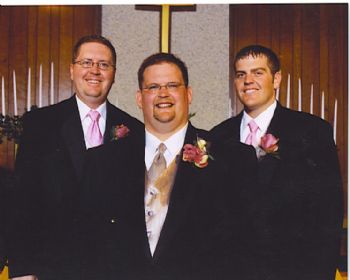 2006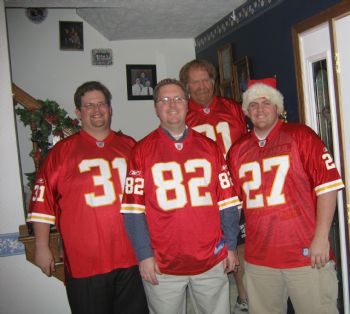 2009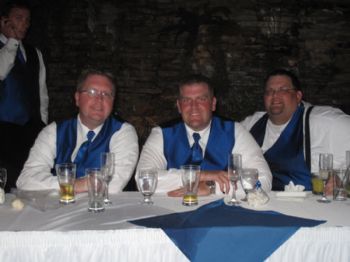 2010