Good Morning Sparkers!
I keep forgetting to post my GOALS for the month. I posted a Daily Challenge this week to my team to post their goals and they've all done it so I had to get mine out here too. Not just to complete a challenge but to help myself stay accountable.
This is going to be a GOALS blog but also an accountability one too since we are already 9 days into it! Better late than never....
Before I begin a few shout-outs to some fellow Sparkers for their ideas & motivation to keep me going and to not give up ~

Pinkbeanboo ~ My fellow SparkFriend and co-leader you are always here to cheer me on and help me. The past couple months have been a struggle for me to find my way back to sparking and getting focused so thank you for your support!


to Self_Respect ~

to you SparkFriend for reaching your weight loss goal! So many of us dream for that day to proudly say that & you have made it! You are inspiration to me that I too can do it and I will! Only 16 pounds to go....

to Livinglifenow ~ At the end of July she posted a blog about Weight Loss Stone Jars that was (I think) a challenge for one of her teams. It inspired me!! So I got to thinking and from there I put my own jars into action.
I bought these cute jars & some tropical colored gems to use. The jar on the left is what is "left to lose" and the right is what is what I've lost. This picture below was how it started. All 20 gems (pounds) in the left.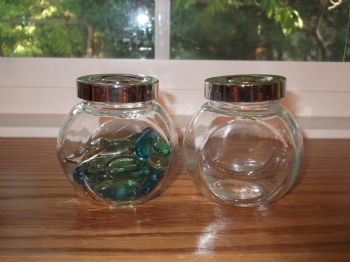 Here is how the jars look after yesterdays weigh-in. I have 16 pounds left & 4 pounds lost!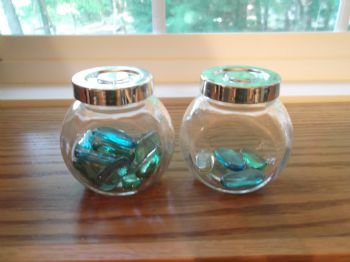 I went with the tropical theme to inspire me to get moving on my journey to a healthier me & get to my goal weight before our anniversary trip to Hawaii!!


I still need to consult with my doctor to see how that number measures up. Until then, that is what I'm aiming for.

to Imsoozeeq ~ Your blog about goals or GOALS helped inspire me to set myself some GOALS this month and work toward them! So far my GOALS are coming right along!


to ALL of you fellow Sparkers out there ~ Many of you are SparkFriends and others are fellow Sparkteammates. Without the support of you all and my dear family I know I wouldn't be continuing on with my journey I would have most likely given up long time ago. Each and every one of you has helped me in some way so

!


Alright, on to my GOALS for the month of August!
I'm kind of doing a mixture of daily goals to lead to overall monthly goals.
Daily/Monthly GOALS:

Tracking!
I am going to track every little morsel of food that touches my mouth. I have my paper journal to use when the internet isn't available ~ no excuses!
UPDATE ~ so far so good. In Week #1 I was out of range 2 of 7 days! Go ME!!! I haven't been that good in months!

Fitness!
Working on reaching 1500 minutes this month and continuing to train for my 5k in October. Looking forward to an "official timed" race!!! I'm also aiming to do at least 30 minutes of heart healthy FM's each day.
UPDATE ~ so far so good! I'm up to 449 FM's for the month and I am continuing to do my 5k training and haven't missed a day yet. This whole "no excuses" thing works!

Health!
I'm focusing on reviewing my journal EVERYDAY. (1) Did I track all my foods? Was I mindful of my eating habits, not just eating to eat to fill boredom or emotions? (2) Did I dedicate 30 minutes of my day to getting healthy? (3) Did I eat in moderation? Was my sweet treat a one serving or did I go overboard? Going along with that and our team challenge of "Go for the Gold" each day I earn myself some

stars for all my efforts! BTW, this team is shining their way through August earning all their gold stars! GO TEAM!!!!
Okay, I think that about covers it all.

Sparkers!

Together