Yesterday was really rough, but I didn't eat the cake!
Wednesday, August 08, 2012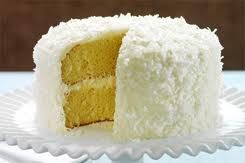 Eating right seems to be the BIGGEST issue I am having on my weight lost journey. I have always craved carbs, and it seems like the cravings have intensified by 10!! And I am not talking about the good carbs either....I want to eat comfort food. On yesterday I was craving this lemon coconut cake that my grandmother had made so bad that i just sat in my room and cried. I cried because I am tired of this on going battle with food that isn't good for my body. Adapting to this new lifestyle is very tough, but I need it. I need the self disciple, even if I have to cry....just as long as I don't give in...I'm good
!