I am feeling quite good about the month of August, and I hope you are too. I find that my motivation is much higher at the beginning of the month, than at the end of the month. A new month is like a fresh start, and I can try harder than I did the month prior.
So far, August has been good to me. I have been logging at least 35 minutes of cardio Monday through Friday. Saturday and Sunday being my off days. I have also started adding 5-10 minutes of strength training on Tuesdays/Wednesdays. I have been going pre-work (waking up at 5, getting to the gym at quarter to 6). It's EARLY.. but I know I won't go after work, so I have to try my hardest to keep up with the routine. I can do it.
Also.. I GOT A DOG!!! Finally. I was looking into adopting a dog, and I found one. He's a 1yr old Pointer/Spaniel mix that I adopted from a local shelter. His name is Maxwell!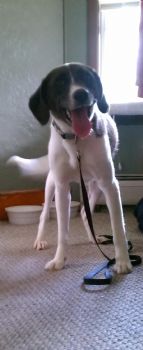 He's such a good dog, I'm not sure how anyone could have given him up (but I am glad they did). Max is QUITE active lol, so I am sure this will help in my weight loss efforts. He has also been very helpful in my 5AM routine, because it's a little more of a push knowing that I am not just getting up for me, I am getting up to take him outside and give him a little play time. We wake up, go outside for a nice walk, bring him back, head off to the gym, come home, take him out a final time, and head to work. He also gets me outside after work. He LOVEEES to fetch. I'm also going to take him on longer walks, we have 2 great trails around here, but I need to get him acclimated first. He's very playful, and starts pulling when he sees other dogs/cats/people. He doesn't bark, he just wants to jump up and lick them. We're working on that. So far, we've got "SIT". Haha, but it's only been 4 days so...... we've got time.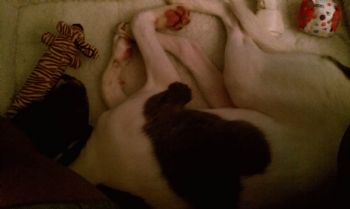 So, two great reasons August is going well. I finally got the dog that I've been wanting, and waiting until I was able to care for, and I've beeen exercising haha. Woo!
I'm sticking to my more SparkPeople-ing goal too - current log in streak 36 days. My current "8 cups of water a day" streak is 31 days. I want to break 100! My last streak for logging in EVERY DAY was 66 days. I can do better than that!
I also decided that I am NOT going to weigh myself weekly this month. It's very hard not to get on the scale, but I feel great and I don't want it to hinder me any. I hid it under a towel. OFFICIAL WEIGH DAY: Saturday, September 1st. That way I get my August total, and my starting weight for September.
Hope everyone else is doing well! I see a few of my SparkFriends that haven't logged in, in awhile. I think I'm going to have to nudge the heck out of them!
Take care!
Nicole