Kia Ora! (that means G'day in New Zealand)
Life has been going nicely, I have been achieving my goals that I laid out...
Apart from today, I'm quite exhausted, as I had a tooth taken out yesterday and my mouth is all ewwy. (Isn't it a miracle how we heal?)
I finally found a local source of Vegan Protein, and yes it was very difficult, it's actually really hard to source stuff in NZ, I made my own Ezekial bread (both of these required for the Jen's personalised meal plan for me). And.... I spent a lot of time making it.. but i just don't love eating it.. sadly. Probably because it tastes like the mung beans i put in it. hahah. (EW!)
Yesterday (Tuesday) Was my Active Canterbury day (Canterbury is the "state" where I live). not that we have states, but you get what I mean.
And a lot is going on
1) they had people come in to do discount personalized training as they themselves are training and still in education.
2) there is a "have a go" programme, and Aqua Zumba has caught my eye... Also, Badminton
3) We competed in badminton and netball and it was actually very fun, A lot of people revealed their competitive sides, and it was not age specific, nor fitness specific, it was all about the mind of the person i noticed :)
4) I bought togs/swimsuit for Aquacise next week, and Char (Charmaine) Invited me to go to class with her, this is important because I have no real life friends who wanna exercise, apart from Sara who has put LOADS of weight on and lost all her confidence and almost all of her motivation.. but thats ok. I'll GET HER! you'll see! hehe - So I really want to take her up on that. - only issue is i may not like aquacise?
I've invited sara to Aqua Zumba, she's never tried it.. time will tell
5) but its ok if i don't cos i can sign up for a walking buddy programe (this active canterbury stuff is great, it promotes continued exercise after the club)
6) I was given a GOLD MEDAL for winning the pairs Badminton :)
Altho it's plastic, I am actually proud of it!

I'll go take a photo for you shall I?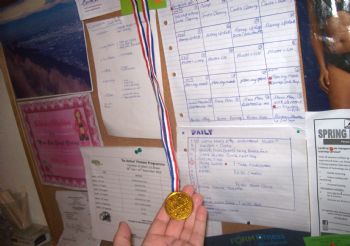 It's hard to read but it says "winner" :)
I am liking that feeling, I want to win more medals.. The only medal I can think of is for the coast to coast. I really really want to do that! It's a two or three day race, from obviously, the west coast (where i was born) to the east coast (where i live now) It's highly probable God has my back on this, as he made the active canterbury thing happen (no actually, he did), and i was also sent a book , randomly in the post, from winning a competition i didn't enter on the coast to coast - I must read it! I really must!
Ross emailed me today.... about doing personal training - he is a student but already has certificates in pump, spin class and some other thing..will tell you more in future
I just think it's kind of funny.. I sorta ... strongly felt very against going to a Gym at the start of my Spark joining- and I still sorta kinda do...... I think I'm about month three.. .but the active canterbury group is AT a gym.. all the classes for have a go, are at a gym.. and yeah.. the trainer will be at the gym
and I already looked into joining costs and had a tour, haha - but for now i will stay in denial and say I do classes from time to time, (I don't go to the gym) hehe.

Who knows, I'm open to the idea of liking it.
I'm sorry I had more to say....
(note meeting with kate),
but I'm so very tired and sore , I think I need to lay down.
Next day, Did I lay down? er.. if you count lying on the couch watching the Olympics for 12 hours straight lying down.. hahaha...
O M G there were some HOTTIES in the men's diving... like seriously, omg. omg omg!
*ahem* anyway!
Feeling better today! :)
ESP! being that I'm Done girl of the day!! wooohooo.. how lucky am I? how did I get picked out of 14,000 girls?? and not only that, on a day when I really needed the encouragement actually :)
Meeting with Kate: I talked about how I had laxed off on my Jillian Michaels and I started back on week three, and I couldnt' physically do it, tho I had a only two weeks prior, she said it only takes as little as 4 days to lose our fitness again.. it's something you gotta keep on.
She also is a ?? instructor? .. For...
K I C K B O X I N G !

And she invited me to her club..
I had no idea joining a silly active group... would have such a huge impact on my future exercise opportunities!!
To be honest, I'm overwhelmed and flooded with opportunities, what a nice problem :D
Ahh,,

I feel like dancing :)
I found spotify.com today.. you can steam music quickly (no buffering) and you can download if desired, AND.. the best bit, the more clicks the artist gets, the more they get paid! yay! tho it's free for us :)
So i'ma listening to dance music.

*pow pow*
And now for something a little bit dangerous..
Me in my new togs! mwhahah! (106kg) .. looks like regular clothes
but they're not. yay!