In the spirit of moving on and thinking of happy thoughts, I'm resuming posting some pics from our vacation. These pics are from July 11th - a very special day. It was our 20th wedding anniversary! So, we decided to celebrate in style. We spent the morning relaxing and hanging out at the pool at our hotel. After that, we got dressed up in our "fancy" duds... well the fanciest clothes and flattest shoes we could fit in our luggage... LOL! After that we headed out for our adventure on the Queen Mary. Enjoy!
Here's a pic of the ship as we were heading across the bay to our destination...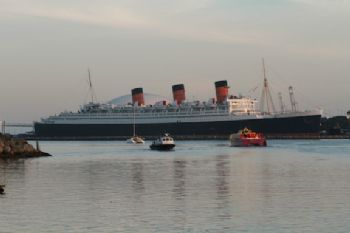 Here's your history lesson for the day...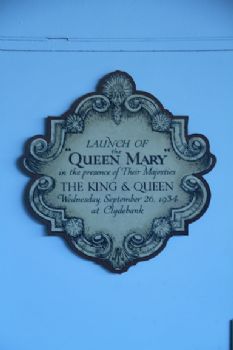 Who could resist this pic as we're walking up to the ship...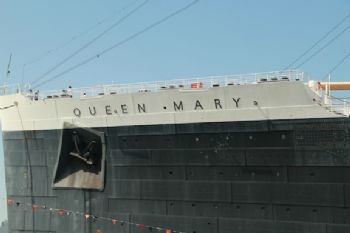 Before we started our Queen Mary adventure we toured a Russian cold-war era submarine (Foxtrot class) also docked there.
Here's a pic...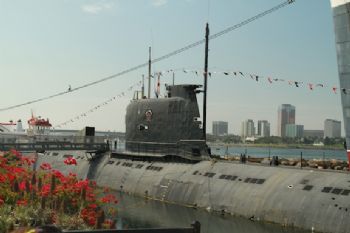 The torpedo room...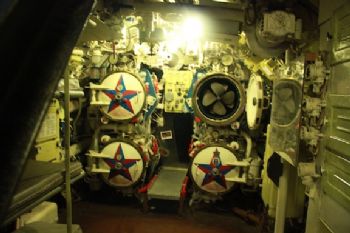 Let's see if you can spot my dilemma... DH snapped this photo after I went through the bulkhead. Not the easiest thing to do in a dress and be lady-like. LOL!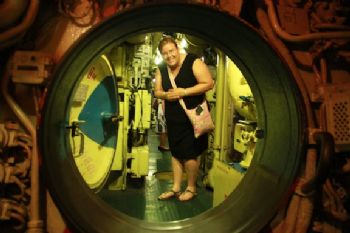 We quite literally spent the day touring around. We did a scavenger hunt that went all over the ship - we got glow in the dark bracelets for finding all the clues and solving the puzzle. We also did a tour and a show...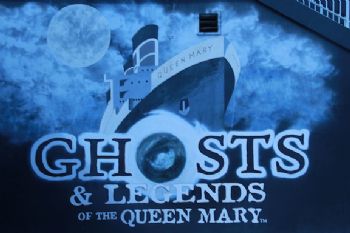 Both were cool. The tour went through all the reported haunted locations on the ship. The show had a similar route through the ship; but had several special effects along the way. Here's the first class pool with their fog effects...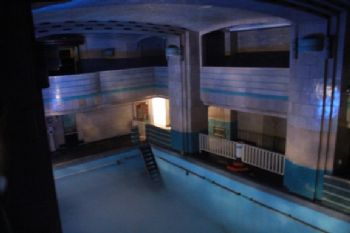 It really is an amazing ship. Here's a pic of the first class room...
Bedroom...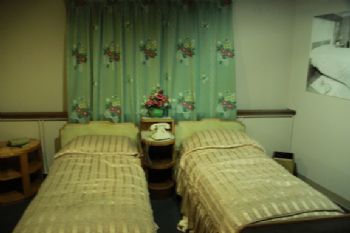 Sitting room...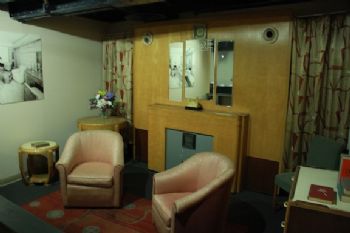 And most importantly, first class had their own bathroom. We skipped the pics of that... LOL!
This is one of the main hallways on the ship. This part of the ship is currently a hotel. We're standing near the bow...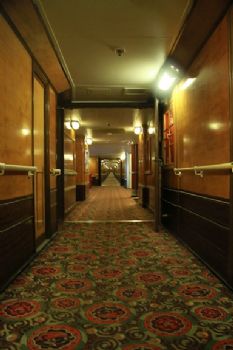 It's cool how it looks like it dips. That's part of the design to make the ship more stable in rough seas.
We learned so much about the history of the ship on our tours. Here are some other random cool things...
Engine room...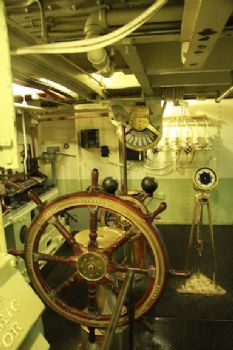 Propeller...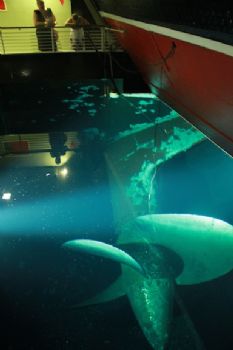 DD and I are in the background so you can see how big it is. It was cool, you're in a room off the edge of the ship to see it. And check this out...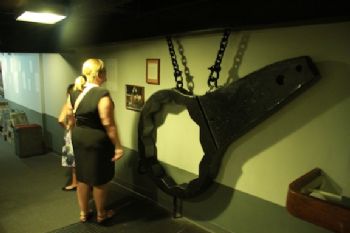 This is the wrench they use to change the propellers. They get rotated like tires. Who knew?
The Grand Ballroom...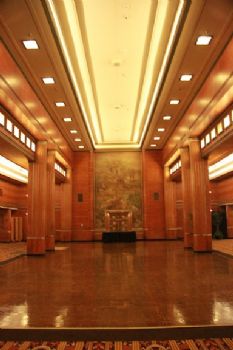 To cap off the night, we headed up to the sun deck to Sir Winston's. It's a restaurant located at the top of the ship.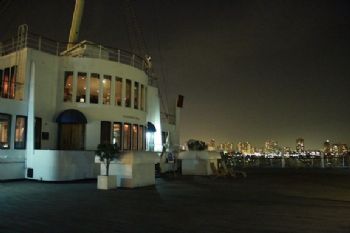 Here's DD and I at our table... we had an incredible view of the sunset over long beach.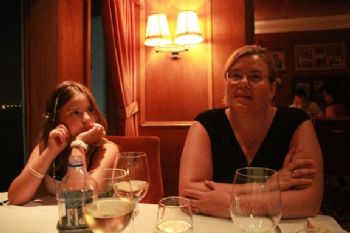 And check out what our wonderful server did for us...
And I really wasn't kidding... we spent the day walking all over and exploring. Here's the parting view we had...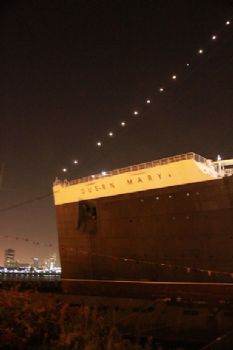 All and all it was a wonderful, if exhausting day. If you're ever in the area, I would recommend taking the time to visit. The history is amazing and it is a beautiful ship. I didn't realize that it was pressed in to service as a military transport during WWII. One crossing had 16,000 people on it - it still stands as a record. Incredible! We have tons more pictures; but I don't want to break all my friends. LOL!
Well, it's getting late so I'm off to bed. I have a quick update on my car. I stopped by the shop today and was standing under it. There was no damage to the structure of the vehicle. All the damage is repairable so they are going to fix it. After going over everything I have to agree with that decision. And I have to say, I would buy another Ford in a heartbeat! Seeing all the safety features and how they worked to keep us safe was pretty amazing. My car did it's job well. DD is happy that it's being fixed. We all really love the color. I'm just relieved to be moving forward and not just waiting for answers. I'm feeling a little less stressed now that decisions are being made and we're moving forward. I need to get a follow up appointment scheduled yet; but that's on the agenda for tomorrow.
Hope you enjoyed the little peek into our fun in CA! Spark on my friends! I'll catch you again tomorrow!
Chris