I realized I've changed a few things lately and they've really been working for me.
One of the things is only weighing myself on Monday. I used to think that I was a lot less stressed when I weighed in daily but right now weighing once a week is working great.
I've started using chopsticks to eat most of my meals and it's fun! It slows down my eating and I find I'm satisfied with less. Also my skill level with using them has definitely improved!
Listening to my body! Yesterday when I was out walking I found that instead of grabbing the bus home I felt really energetic and had lots of energy so I just kept walking. I wasn't looking at my watch I was just enjoying myself.
I've been trying foods that I don't normally eat. Quinoa is one of those foods and I love it. This week I set my online food journal to their menu settings. I don't always like what they suggest so I substitute foods. But it has been giving me simple ideas that I hadn't been doing.
Whether it's because it's finally cooler I don't know but I've really felt like cooking. Yesterday I made my favourite pickled spicy green beans with lemon, muffins, lentils and tomato sauce.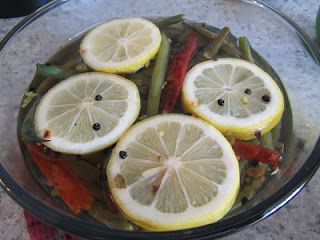 Making home made iced tea and coffee. Great way to get more fluids on a hot day.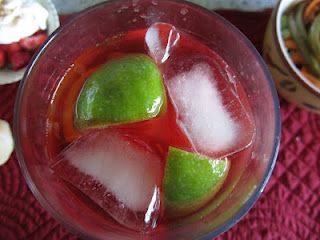 Tomorrow I'm making a post about weight loss/fitness/healthy tools that are working for me right now.
Do you have things that are working well for you right now??
I did go for a walk today :) And I lifted some weights. I really need to sit down a figure out a quick and easy to follow weight routine. Anyone have any suggestions??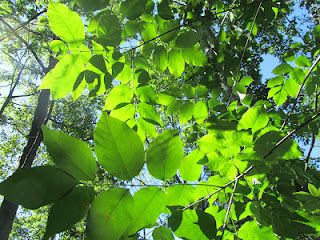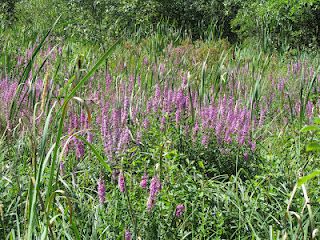 Today's nosh:
Breakfast: multigrain cheerios, almond breeze, blueberries, ground flaxseed and almond breeze for coffee
Lunch: salad with tuna, balsamic vinegar, olive oil, dinner roll and yogurt with strawberries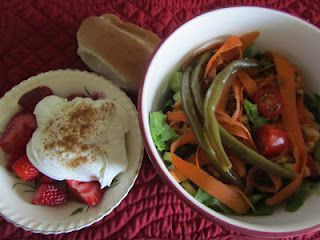 Snack: a couple of Jack Links beef nuggets and a small glass of fresh juice from my juicer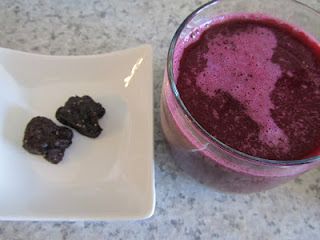 Dinner: Emily Bites cheesy chicken and stuffing, pickled green beans, beet greens and cantaloupe for dessert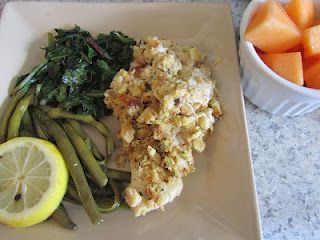 Glass of wine while watching the olympics :)