I think the most important thing I have learned THIS TIME is that it IS possible to treat myself sometimes -- as long as I RETURN to my good habits later. I used to think once I slipped....it was all over. And I used to be that way. I would pig out on vacation and when I got home, I would continue to pig out and soon all the weight I had worked so hard to lose was back, along with a few extra pounds. I remember going to Kansas City, clear back in 1973. We went with friends and I had just shed quite a few pounds. At first I was very careful about what I ate, but as the trip progressed, I ate more and more AND MORE, and when I got home I just kept eating. Needless to say, it wasn't long and every pound I had lost was back plus more!
This time I know my new lifestyle is FOR LIFE. I overate on Saturday (especially!), but when I got home, I returned to my habits of eating lots of fruit and trying not to snack much. I went to the grocery store yesterday and stocked up on my fruit and veggies, so now I'm set for the week ahead. I have had a good couple of days, and that gives me confidence that I can get back to my more conservative ways. And now that I'm back at work, I'm in my routine that I'm used to and should be fine. At least that's the PLAN!
We did have Mexican last night at Carlos O'Kelly's for oldest son's 40th birthday. Hard to believe my little golden boy is 40. I call him that--because he was my ONE skinny child. To me--skinny is GOLDEN! He was a runner--he loved to run as a kid and eventually ran both cross country and track in high school. He still runs today and told me when he got back from vacation his weight had dropped (like mine did on vacation--go figure??!!), and he was weighing in at 198. Not bad for a 6' guy. Oh he watches his weight too. He is smarter about that than I was. He started gaining weight when he hit 30. I remember once he said he had wanted to weigh 180 all his life and now he did, but it was all in his belly! So he doesn't eat much dessert and he runs a lot. I am very proud of all my boys, but since he turned 40 yesterday, I will tell you his story.
Mark at 2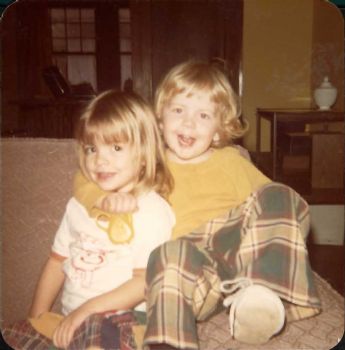 Mark and his cousin, probably about 3 or 4 years old.
Mark took his time getting through college. He was kind of a goof-off for his teen years and early 20's. Never a BAD kid, he didn't get into trouble, but he was careless with money and spent everything he earned. He would start a lot of classes, and then if they were too hard, he dropped them. As he got closer to getting his degree however, he got more serious. He worked his way through, paying as he went his last couple of years (all told....it took him 8 years to get his B.S.), but he did indeed graduate and got a great job, which he is still working at, almost 14 years later. He met Laura and they married in 2006.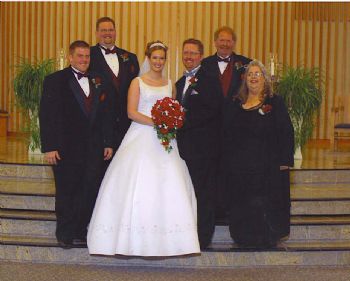 Mark's wedding day, 6/18/05
Today he and his wife have two beautiful kids and a beautiful home. They are careful with their money, and even with lots of expenses (daycare alone, for two kids would break me!), they are doing great and are talking about buying a bigger home. He got his love for sports from his Dad and is a big Kansas City baseball and football fan, which can be frustrating! He also loves Cornhusker football, as does most of Nebraska, and attends every home football game.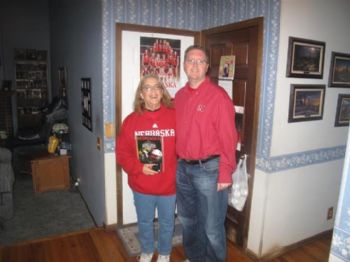 Mark and I before attending the Nebraska/Iowa Football game last November.
As I mentioned, he is a runner and he & his wife recently bought new bikes, so they are out on their bikes every chance they get too. This fall, he has volunteered to coach his son's soccer team. Back when his little brother was 5 and 6, he coached his soccer team too, so he has some experience there. Since he is 13 years older than my youngest (I spread my boys out, today they are 40, 34 and 26), he was 18 by the time his brother was 5 and old enough to be their coach.
He has some special situations in his life too. Duncan, his son, is an albino. He is a beautiful, smart boy, but will be unable to drive due to his poor eyesight. Sports that require much hand/eye coordination will also be difficult for Duncan, which I know was very disappointing for Mark. As he has often stated, "All I want for Duncan, is that he have as normal a life as possible." And life can be fairly normal for him I think, as long as considerations are made for his poor eyesight. I am so proud of the way both Mark and his wife have handled this unforeseen condition that their son was born with. No one ever saw this coming, even though it is a genetic condition and both parents must possess the recessive gene for it, there is no one on either side of the family (at least that we are aware of) that ever had this condition. Duncan is developing his hand/eye coordination through his love of ALL video games however. And if things are close enough---he can see just fine.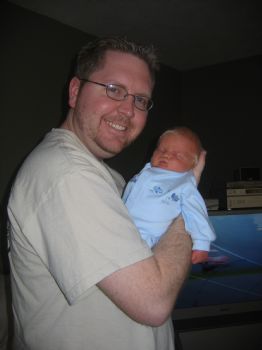 Proud dad with his newborn son!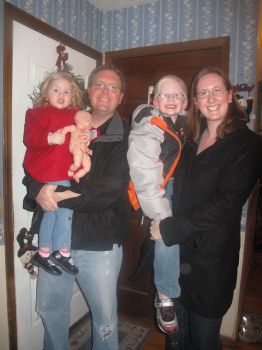 Mark's Family -- Christmas 2011
So that is the story of my oldest son. My golden boy is 40, sometimes I feel like we grew up together, since I was only 21 when he was born. I did a lot of learning about child rearing from Mark....and sometimes I feel badly about some of the things I did and didn't do. I know I regret all the yelling I did as my boys were growing up. At least the oldest two. By the time the youngest one came along, I was much calmer and I think he definitely benefited from my experience with the older two boys.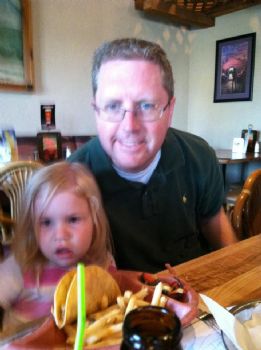 Last night at Carlos O'Kelly's
My boys are my life. They and their families, along with my husband, are the most important things in my little world. Without them, I don't know what I would do. I have been very fortunate to have three great kids and a wonderful husband, and now am blessed with gorgeous grandchildren. Now that I have figured out how to control my weight, I hope I will be given many more years on this earth to enjoy all I have been given.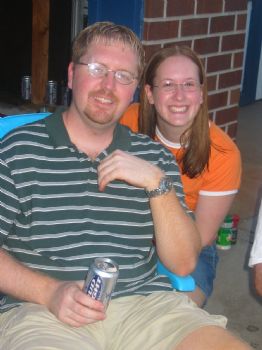 Mark and his Laura