Hi all,
I had an amazing time at the fair Friday evening--oh, the "Great Mississippi Valley Fair" and the REO Speedwagon Concert. It was so much fun--I have photos and hope to download them by tomorrow, so I'll share them then. I haven't been to a concert in a while, but it was everything I wanted it to be. I knew all of the songs--one of them threw me for a few moments, but then I got it. I sang and tapped my feet and played my air guitar and even danced a bit. I have seen REO other times and this was one of their best. Their showmanship was awesome. We sat in a special area reserved for folks with disabilities and I was a bit amazed at some of the people there. Many of these people were overweight and smoking and in wheelchairs. I almost became judgemental until I thought about who I was before SparkPeople and I knew that I didn't have the right to think what I was thinking. I wanted to reach out to a couple of them, but it wasn't the time or place for that either, especially with strangers. I am sure glad that I found Spark People and I am glad that I lost 140 pounds. I cannot imagine what shape I'd be in with that still on me--I'm sure I'd still be using that wheelchair to start with.
I have done an awesome job of analyzing my daily menus--after measuring a lot of my food so that I am not imagining what I am eating. I still have my own age-old problem of not eating enough. I ignore those red messages that I get from SP on my trackers--and I have booted it up quite a bit, but I am still below 1000 calories most days. I have been drinking up to 12 glasses of water daily and I am wondering if I should cut back on that or substitute beverages like mild and fruit juice to beef up some of my calories. I suspect that I am not going to have quite the loss I need for my hip replacement if I don't get things fixed.
My job is at a frustrating place right now--I have to collect all of the kids' reading scores to select students before I can make a schedule and I am short about 60 scores that I am trying to find. I think they may let me help with some of the assessment which will make a lot of sense. As I called other schools in our district, I found that they did not replace another Title 1 teacher who retired--and that drops us down to a department of between 8 and 10, depending on what the junior highs have done. I am very alarmed at this type of choice because having reading specialists in elementary schools makes a good deal of sense. We are trained to assess and diagnose reading issues--and reading is at the core of any and all learning. I don't know what administrators are thinking these days.
Grant's farm (yes, no segue...) is located in the St. Louis area. It formerly belonged to President Ulysses S. Grant and was bought by the Busch family (of Budweiser fame) in 1908, I think. It is beautiful. One of the things that has been done is an effort to care for local wild life and to bring some other animals has been a goal of theirs. One thing that people can do at Grant's Farm is taste a variety of beers without cost, just with reminders that with drinking comes responsibility. Admission is free, actually the only costs are for food, non-alcohol beverages, animal feed, and souvenirs. When you arrive, you start out with a ride on a tram that takes you into areas of the farm that are only for viewing and then, it drops you off in the area where all sorts of activities for families are. I tried to take photos on the tram, but I didn't have much luck because of the pace we were moving at.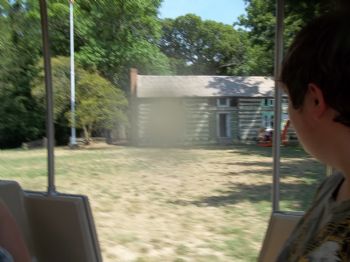 This is the actual home, it is a one level home and looks quite lovely.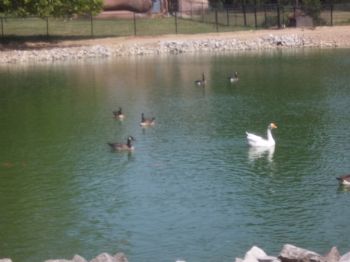 There were loads of animals--especially deer, birds, plains animals--but I just couldn't photograph them on the tram. I do have photos from other parts of the farm though...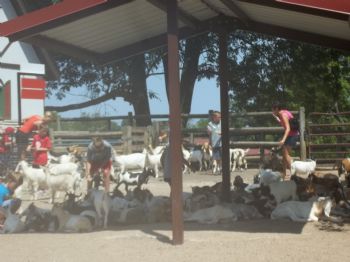 There was a wonderful petting zoo--this is the goat section. They sold bottles that you could purchase to feed the goats. If you went into their very busy pen, you got mobbed by goats who wanted a special drink.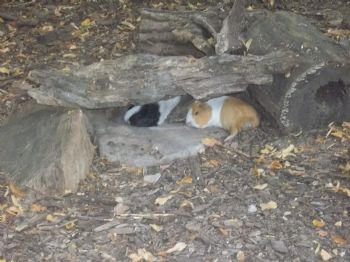 There were many animals in the petting zoo-many farm animals and thse rather large guinea pigs that my kids were quite interested in. We have had guinea pigs forever, and none of them were quite so large. They stayed huddled up around a log, most likely seeking out the coolest place to be in the 108 degree temps.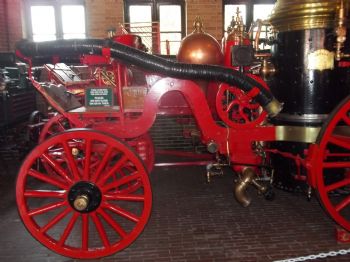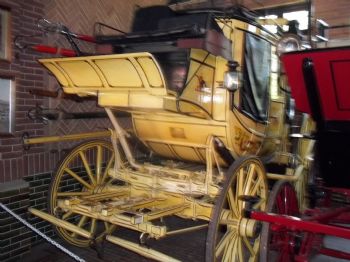 Not surprisingly, at the home of the Budweiser Clydesdales, there were lots of interesting buggies and carts around.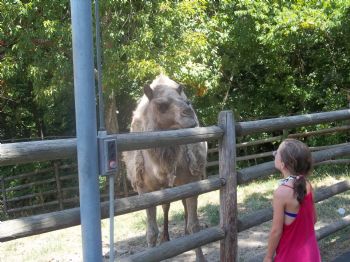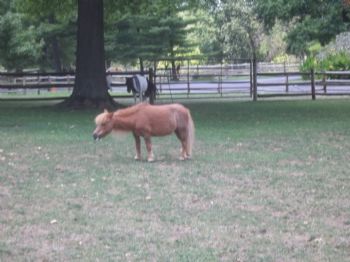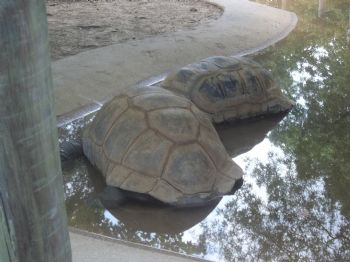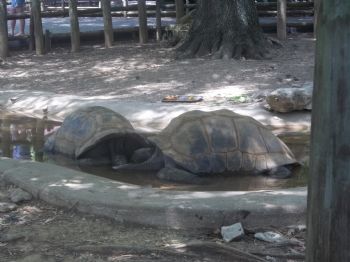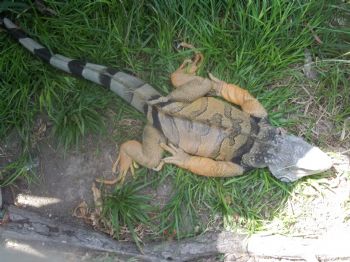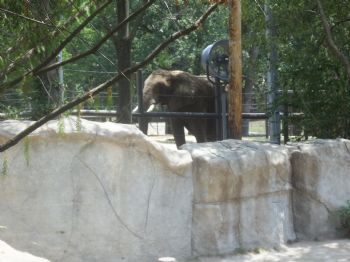 The variety of animals was surprising--it is almost as if the Grants family and the Busch family were creating a zoo out of their farm.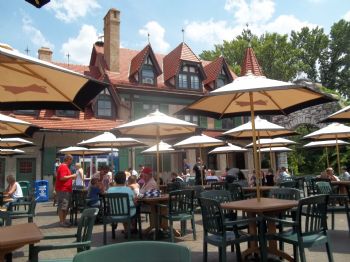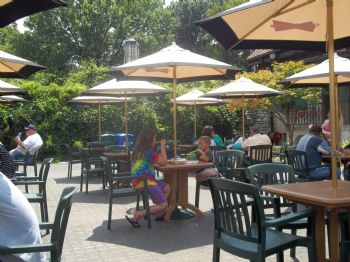 The eating area reminded me of a traditional Oktoberfest in appearance, sound and menu. They were playing polka music and the food included brats and sauerkraut as well as some more traditional items like pizza slices. It was a fun place to eat! Next to this area was a stable that contained some gentle hirses, ponies, and donkeys. After we ate, we went on to check out the pond and the birds--my kids had a lot of fun feeding them.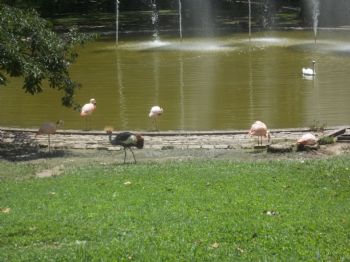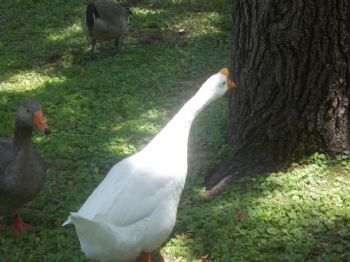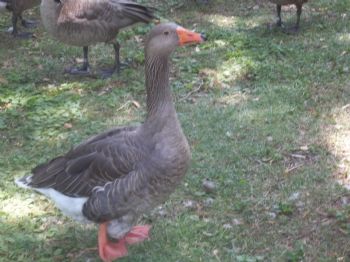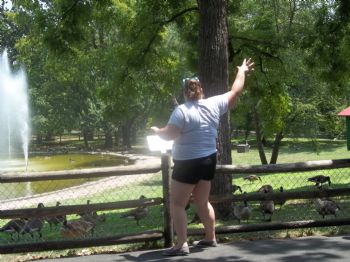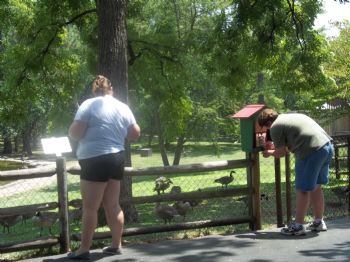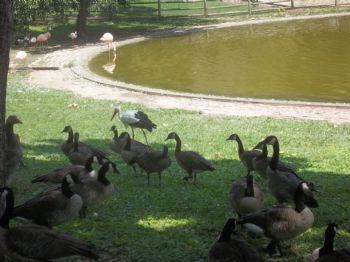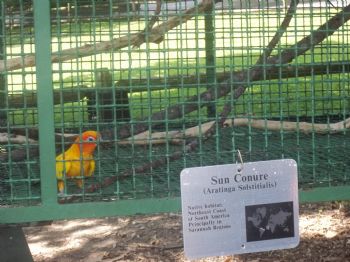 After spending a lot of time with the birds, we decided to go back--so it was back on the tram to the entrance and the big souvenir shop.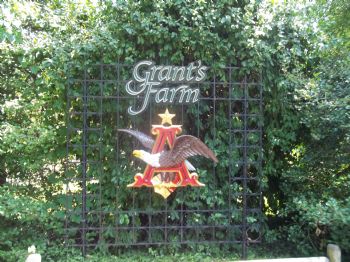 After buying some gifts for those who couldn't come with us, we walked back across the wooden bridge, to the parking lot, and over to the stables for the Clydesdales.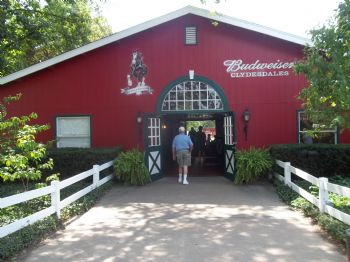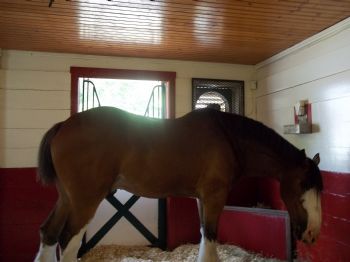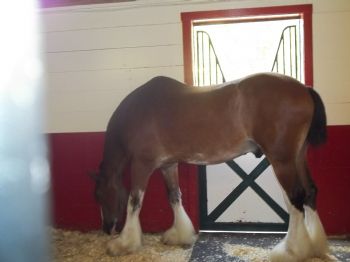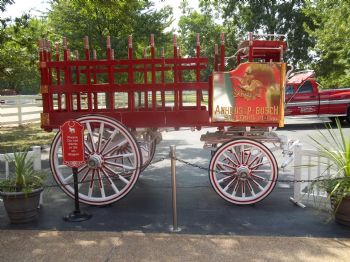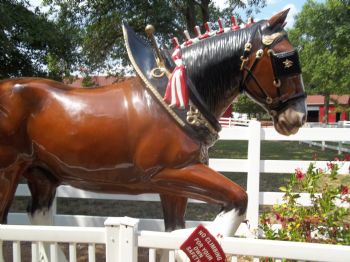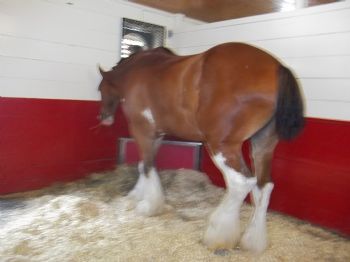 Finally, we were on the way home and I snapped a few photos of a very interesting bridge that we had crossed on the way to St. Louis and again on our return trip. We had quite a conversation about its design.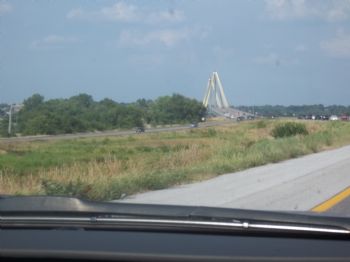 SP couldn't upload any of the other bridge photos--they were too large...I fell asleep trying .
Tuesday is my day to teach kids the proper way to use our bathrooms--and supervise four half hour recesses. I have so much important work to do, but TPTB decided that this was far more important. Hmm? Anyway, after school, I have to go for my second SI injections. I won't be allowed to go to the pool so hopefully, I will be able to do more work in my garden.
Take care of yourselves and I will share concert photos soon!
Gentle hugs,
Sylvia