Monday, August 06, 2012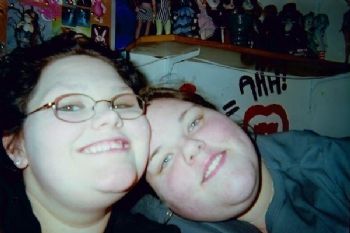 I.. if I may... would like to take you on a journey. A journey into the mind of... some one who adores her best friend. LIZIEBEAN.
I met Liz in 1997. It was just before we graduated middle school. She was a townie.. I was from the "city" and we hit it off right a way. Our schools had a joint dance so all the 8th graders can met there soon to be peers. Before I knew it I had more new friends that night then I had .. well my whole middle school life. Well High school started and it was a good start. We all huddled together in the morning or at lunch and hung out like kids do. Chatted and Passed notes in class, caused mild trouble and backed each other up to get one another out of trouble. Sadly my new dear friend Liz moved. And we lost that connection. It wasn't till i believe our senior year I was hanging out in the parking lot behind the high school hoping for a ride to my dads gas station (it was a hike and a half and it wasn't a pleasant one) and coming up the drive way was this grayish rusty colored car and my ol' friend Liz was driving. From That day on we were glued to the hips. We would hang out and even tho we were not really doing ANYTHING, We would just drive and crank music. All kinds. At the time she was ... into boy bands. I was a metal head. Hardcore. Marilyn Manson and Korn was the poison of choice at the time (still is) and I made her listen to it. And she did. Next thing I know.... she knows all the songs just as well. LOL I sucked her in. lol We continued to be glued together and we just about lived with each other. If she wasn't at my house I was at hers. I no longer called her my best friend. I called her my sister. I even went to my first arena concert with her. Justified Striped Tour. Justin Timberlake and Christina Aguilera, with Black Eye Pea's opening. It was Awesome. She brought me on my first ... ghost hunt. And we have been going every time we get a chance. Mind you it's not often ... but when we do... we go all out. She was there for me threw Every thing. Even tho we have had our share of major head butting, but we know each other well enough to know when the other is ready to mend things. And we have. Now that we are both "adults" lol we are still just as tight as before. I Think we are closer actually, Especially since I got you into World of Warcraft. Liz. You are such a beautiful woman, and I know I would not be the person I am today if I did not met you. I love knowing when there are things on my mind that I just can't get out, or cant tell my Mom or my shrink about or... you know ... your there for me. I am blessed that I have you. My Big sister. Lol... My blood sister. You are beyond epic chicky and I love you. Your beautiful, strong, brave, feisty, fabulous sense of humor, stunning blue eyes, great laugh, and you out of every one I know... Know me the best. That's also why even If Pat and I elope... I still want you there. No matter what. You have seen me in my best and I know you've seen me at my worst. I love you Liz. Now and forever, Sisters for Life.