On Saturday, I participated in my first virtual race, organized by theboringrunner.com -
I woke up bright and early on Saturday... but not to run.
I met up with some friends and we took a 2 hour long train ride to a small village in the Czech countryside where we visited a castle. A 2 hour train ride back followed by a long late lunch meant that I arrived home exhausted, and immediately succumbed to a napů
By the time I woke up and got ready to run it was 9pm and getting dark fast. I realized that perhaps running in the park would not be so smart at night, so chose a riverside route instead.
The evening was relatively cool and the city was beautiful. For the most part, my path wasn't overcrowded with tourists, and aside from one short stoplight, I ran 5km without stopping, which I haven't done in a while.
It wasn't a piece of cake. I kept thinking about how in 4 weeks I'm running a 10k and this is just half that distance. But I know that progress is just not stopping, putting one foot in front of the other, and that 10km race on September 1st? I can do it. I've done it before and I will do it again and if I don't PR or put up an impressive pace, that's ok. Any result is better than chickening out, right?
My final time for the 5km was a little over 34 minutes, not incredible, but I'll take it :)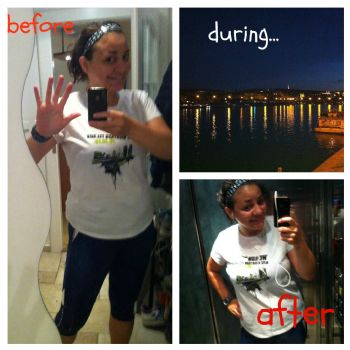 I'm glad I went out and did the run, even though it was late and I had had a long day, and I had almost convinced myself to put it off to the next day. I felt a lot better afterwards.
Sunday however, was a bit of a slip-up day. I had lots of work to do but instead - I spent the morning/afternoon being lazy. I ate way too much, but stopped myself a little earlier than maybe I would have in the past.
Fortunately, I had invited people over for a bbq that evening, so at 5pm, I had no choice but to get my butt in gear - clean the house, prepare some salads, go shopping, etc. I had lots of veggies and hummus available as well as 2 salads, in addition to the usual pretzels/chips/meat. That was good and it was a fun evening out on the balcony with friends.
Which didn't stop me from snacking excessively on leftover chips and cookies after they had left. WHY do I keep doing this?
This morning (Monday) I woke up - later than planned - and hit up the park for a slow sweaty 4km run. While I was running, I decided I need to get more serious about my nighttime snacking habit. Just 'confessing' it every now and then is really not enough, so I'm going to try the accountability route.
I'm going to keep track of my binge-free streak RIGHT HERE on the blog.
Today is DAY 1.
Tomorrow had better be day 2!! :)