Sunday, August 05, 2012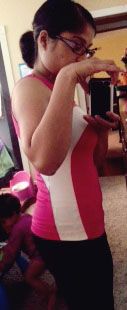 I am honestly getting really tired of waiting around for the lbs to come off. I have been 119-120 lbs for the past 2 months now! I want it to come off already. I need my weight to be 110 so if I fluctuate to 115, im still okay. Right now i'm at the edge and would not want to see my weight to go into the 120's or above. My healthy bmi will be 110 (right in the middle).
Any ideas on losing these last 10 lbs?
I know its hard but gosh, this is WAY too slow! I am thinking of upping my exercises and changing up the routine from Jillian. Even though I changed the jillian dvd I was doing, I still transferred onto doing another Jillian dvd. I think its just not working anymore. I did 20 mins of p90x today for my abs..and boy did I start sweating!!! I really just want to lose some lbs by my birthday in 2-3 weeks.