Sunday, August 05, 2012
We had a pretty good weekend here. Yesterday I spent 30 minutes in the gym while Joe and Chloe went to swim class, burnt 320 on the elliptical! Got a little over zealous with my eating in the evening (like, eating an entire bag of beef jerky [which was 210 calories total] and having some other snacks) but when I checked the scale this AM it said 193.4, so I haven't gained too much... and hopefully I'll see a 192-191 tomorrow when I weigh in. Today my food was pretty good but I need to get in some good cardio today but it's getting late. I might end up going for a driveway jog like Joe always does...
Anyway we decided to go blueberry picking but since it was so hot yesterday we decided to go this morning. We got there around 9 and it was already warm. We picked 3 lbs and only paid 8 dollars! They are sooo yummy.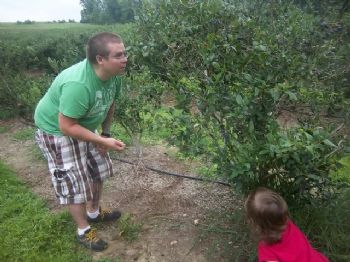 Joe and Chloe looking for good berries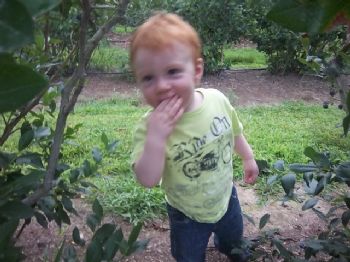 my cute baby boy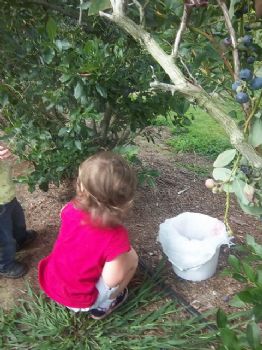 working together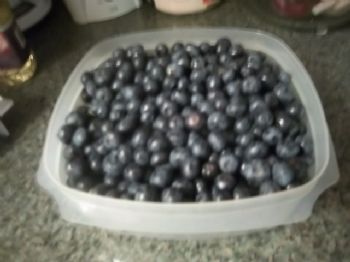 yum!
Anyway, since we got our EBT benefits we joined half the town at the supermarket after our berry picking excursion (it was packed!) and got lots of yummy healthy food. I had two SmartOne meals today plus some snacks. I've been craving popcorn so I bought some last night- light of course. I loooove me some popcorn and can definitely eat a whole bag at once... which I did twice this weekend. From now on I think I'll split them in half though, even though it's low calorie.
Anyway, Spencer is screaming bloody murder right now so off I go. Have a great night all!