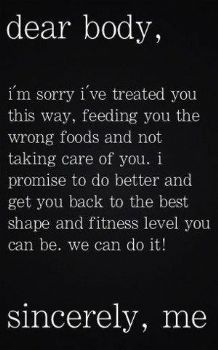 It starts with commitment, and I am 100% committed.
Let me start by explaining what sparked this new commitment for me. Last week I got a call out of the blue from a friend I haven't seen in over a year. She and I originally met at Weight Watchers a couple of years ago. She was mainly interested in the purses she heard I was selling and came over to see them.
She looks fantastic! Slimmer and the picture of health!! Most of all, she looked happy and content. What she told me blew me away. She had breast cancer 10 yrs. ago and went through the lumpectomy, chemo & radiation. She'd been in remission for 10 yrs. and faithfully went for her checkups. The last mammogram showed something that turned out to be a nickel-sized stage 3 tumor. She ended up having a total mastectomy. But this time, she opted NOT to have the chemo & radiation. She's working with her doctor and a pharmicist on holistic alternative treatment that requires a specific diet and supplements. She has lost 30 lbs. in the last 4 months and, more importantly, has lost all desire for the former foods that not only kept her fat but fed her cancer. She has been such an inspiration to me!
She shared her diet program with me, and ironically it is almost identical lto a plan that I had just started reading about. I have made the commitment to this plan and am starting tomorrow. There is zero tolerance for cheating. I will weigh tomorrow a.m., but no weighing allowed for 30 days. This is a plan I will not go off of. I am eating for good health and prevention of disease, with weightloss being a nice side benefit.
The plan is called Whole30.
whole9life.com/2012/08/t
he-whole30-program/
Here's just a quick summary:
. eat meat & poultry (preferably grass-fed & organic), fish (wild caught), eggs (free range organic), LOTS of veggies (the biggest component of the your diet), limited fruit (low GI such as apples, peaches pears - berries being the best selection), and good fats (EVOO, coconut oil, cashews, macademia nuts are best)
. do not consume added sugar of any kind, real or artificial - no maple syrup, honey, agave nector, stevia, Splenda, xylitol, etc.
. do not eat processed foods. period.
Even things I had always thought were "heathy" are not-so-much.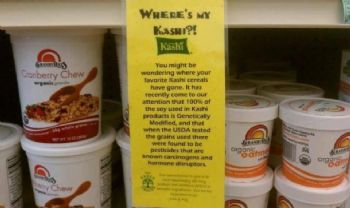 The pic is from a responsible food market that posted the sign that reads:
"Where's my Kashi?
You might be wondering where your favorite Kashi cereals have gone. It has recently come to our attention 100% of the soy used in Kashi products is Genetically Modified, and that when the USDA tested the grains used there were found to be pesticides that are known carcinogens and hormone disruptors"
IMHO, you can't trust any of the processed foods. Read labels, but better yet follow the advice of Dr. Joel Fuhrman: "The most important thing to remember about food labels is that you should avoid foods that have labels."
. do not eat grains - including corn, wheat, oats, rice, barley, even "good grains" such as sprouted grains or quinoa.
. do not eat legumes - including beans of all kinds, lentils, splt peas, peanuts (and, goes w/o saying, no PB)
. do not eat any dairy (milk, cheese, yogurt, sour cream, butter), including goats milk products
I know you're probably thinking this is restrictive and next to impossible. I'm not sure. I'll know starting tomorrow. All I can say with 100% certainty is that when disease prevention and optimal health become THE motvating force, it's pretty powerful.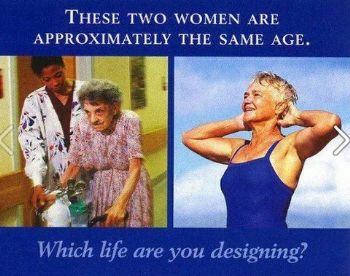 I believe the object of committing to 30 days is to give you a thought process of "it's only 30 days, and I can do ANYTHING for 30 days if I know there's an end in sight". But, what I'm anticipating is that when I've been 100% compliant for 30 days, the changes in my body and state of well-being will be so powerful that there will be NO WAY I'll want to return to my former way of life. I think you have to truly experience it in order to cut the ties of past behaviors.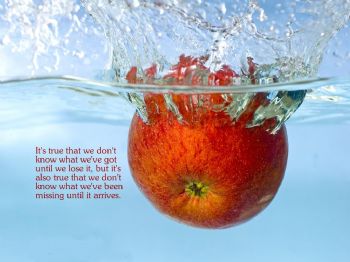 The print's a little small in this pic and it bears repeating: "It's true that we don't know what we've got until it's gone, but it's also true that we don't know what we've been missing until it arrives."
I have to see my primary care doctor next week because I am currently on high BP meds. He won't renew the Rx without seeing me because I haven't seen him for a year. Hey, I'm trying my best to avoid having to see him! Yay for me because I wasn't sick for a year! I have a goal to get completely off my BP meds. They aren't curing anything; in fact, they are just masking the real problem and the cause is my diet. I don't have any medical insurance because I can't afford the monthly premium of $1000/mo., with a $500 deductible. I don't want MEDICAL insurance....I want HEALTH insurance.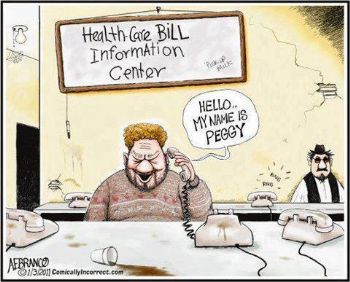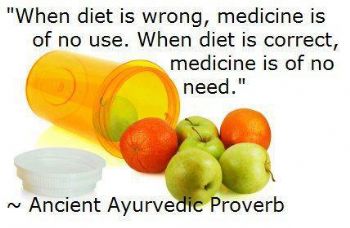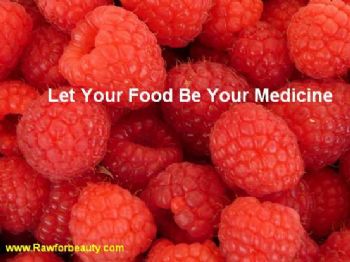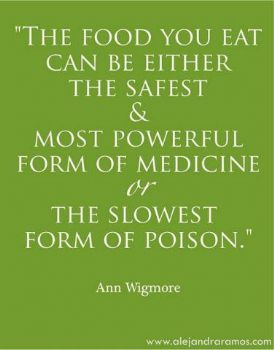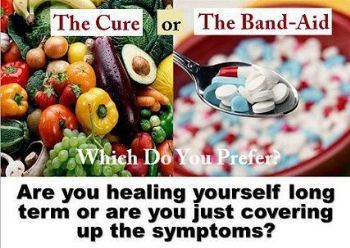 THIS is the kind of doctor I want: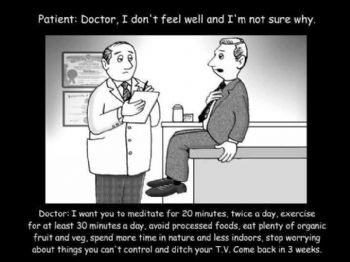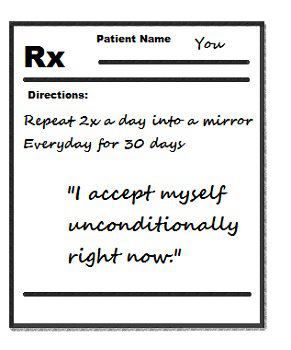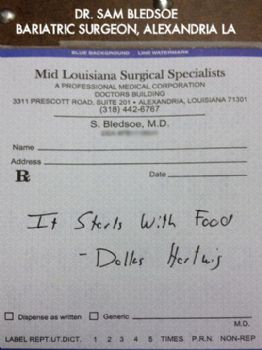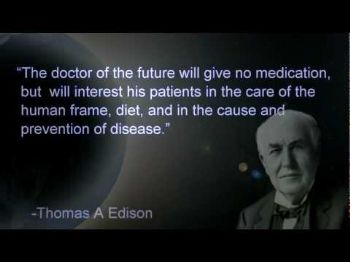 I'm not so delusional that I think this will be easy; in fact, there are going to be some VERY tough days ahead. But I know that I am strong. I am motivated. I am capable of doing this. One of the tools I'm going to use is daily meditation to assist in calming the anxiety and open myself up to major change.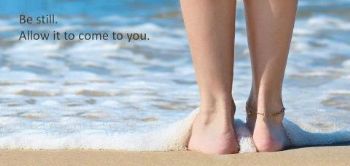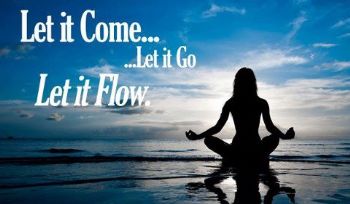 The answers are truly within, and meditation helps to tap into your inner knowledge.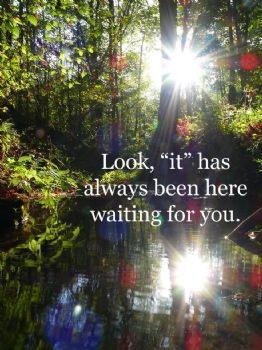 Another tool is EFT - Emotional Freedom Technique. It's like accupuncture/accupressure but is a technique of tapping on specific areas (meridians) to restore the flow of energy and remove emotional blocks, eliminate negative feelings such as anxiety, eliminate cravings, etc.
You start out by tapping on the side of your hand while repeating 3 times "Even though (insert problem/negative situation), I deeply and completely love and accept myself." Then you tap the specific points while summing up the problem in a few words.
There's a lot of good info. about it on this link:
www.garythink.com/eft/ef
t-tutorial.html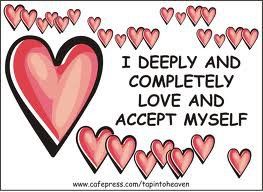 I can also promise that IF I stumble and fall, I will get back up and go again. This is way too important to quit. It's the rest of my life and up to me how well I live it.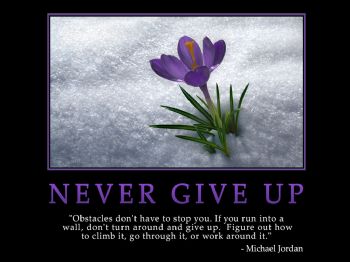 Tomorrow is

The term 'DO OR DIE" is very appropriate when it comes to changing to healthy eating habits.
I'll check back by 15 days - my midpoint. I REALLY want this to work and am hoping to give a good report of my progress.