Saturday, August 04, 2012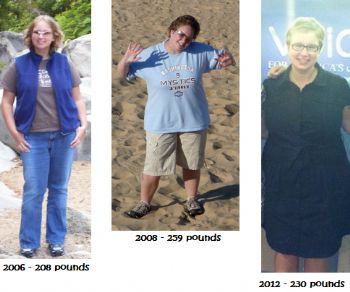 What happens when you don't see a difference in your weight anymore? I mean, obviously I am young and trimmer 6 years ago. Wow, has it been six whole years already?!!?
I was a newlywed, literally two days after getting married and we went for a drive on the Kangamangus Highway, stopped at a scenic overlook type pull-off, and my wife snapped a picture.
Two years later, I happily put on the newly-wed pounds. Packed on 50 of them between 2007-2009. I stayed around the same weight - losing the same 20 pounds only to gain it back. For my sister's wedding in 2009, I lost 30, but went right back up to 259-260 in no time.
In the last year, I've lost 40 pounds. I put ten back on between May and June, but I've already lost a few of those, recognizing that I can't yo-yo anymore. I don't want to, in fact. The only thing to work on is my lack of exercise, which is no easy feat. Changing habits is hard, especially if they are bad habits! But I keep plugging along.
The only thing is, I can't see a difference between 259 and 231! I know I SHOULD, but I don't. Nor do I feel all that different. Nothing other than feeling fat. I obviously know the numbers are different, but what's a girl to do when she doesn't FEEL different?