I took the plunge and bought my time trial bike. I have day dreamed, talked about it, blogged about it and ultimately I put my money where my heart is. I raced home from work, crammed my pockets with the money I was going to spend and booked it down to the bike shop.
They put my baby up on the fluid trainer and had me get on it for fitting.. This would be my first time ever being on an aero bike.....
.
I hopped on and off many times while tuning adjustments were made. It really began to sink in that I was about to take a major first step toward my Half Ironman dream.
.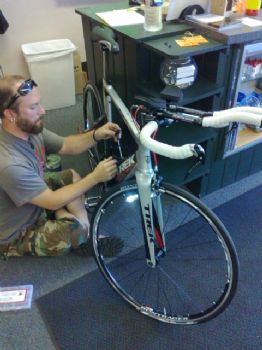 .
more fine tuning... getting ready to go out the door.....
.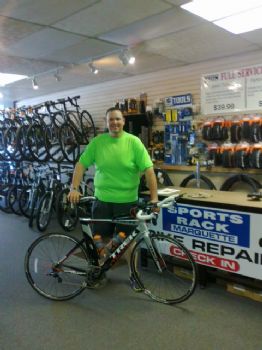 My New Machine!!!!
.
Hmmm how did this wind up in my trunk?? It followed me home.. can I keep it?
.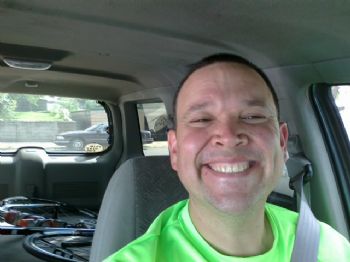 HAPPY CAMPER!
.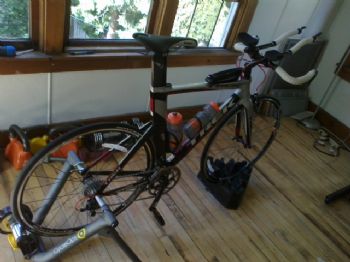 Set up on my magneto indoor trainer..
.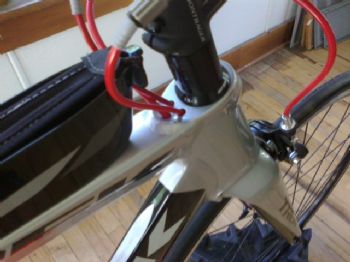 Cables routed internally to reduce drag..
.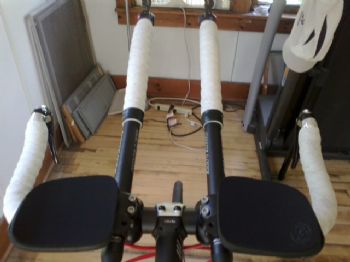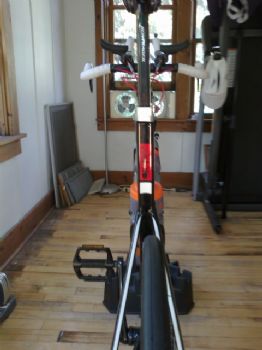 Thin aero profile frame..
.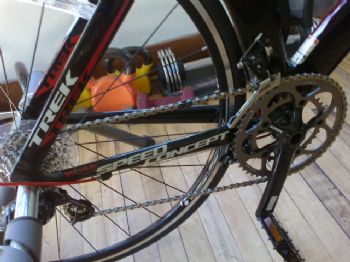 Some serious gear action going on here.. this thing is made for speed!
.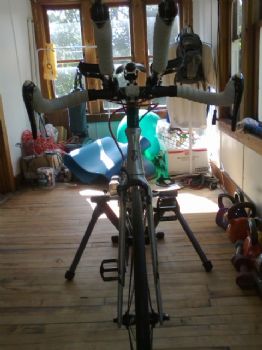 Front view
.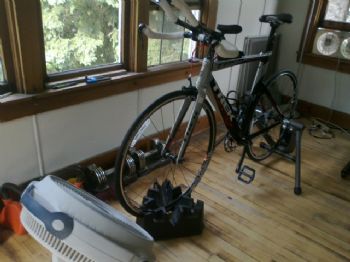 Set up for some serious workouts!
.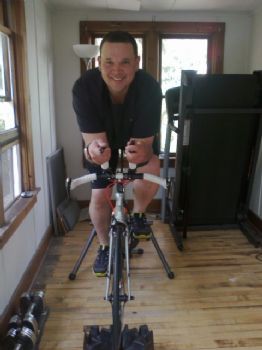 .
Ready for action!!!
.
I'm pretty excited but I am also realistic, 70.3 is a huge undertaking and it will demand the most serious preparation but it is a calling to me...I really get motivated when faced with a goal that I know I can do only if I work hard and stay focused. It has to be huge... well this is epic in my books.
My first time on the aero bike was what I expected, challenging. The Time Trial bike requires muscles I never knew existed when compared to my standard bike. That's ok, I like a good challenge. One thing I noticed right away is my heart rate. I am positively destroying calories during a 30 minute cycle session. I only got a fraction of that on my mountain bike.. it must be the gearing. The wheel attachment of the trainer has heat fins on it. I have been told that they get hot. I never got it hot when using my old bike but i sure lit it up with this speed demon. I think I have finally found a high intensity workout without the impact of running. I ran all the time because it was a quick and dirty to roast alot of calories in short order but I have a tendency to over do it for that very reason.
I love running for sure BUT... this is going to be a real tool in my tool box to get solid burns without killing myself.
When I am on it... I feel like another person. I feel like I am living the dream of becoming an Ironman, like instead of only being a dreamer and spectator, I am a combatant. I was listening to one of my tunes and doing cycle intervals to the music. I would recover during some parts of the song but when it got to the good parts, I got it into aero, grabbed gears and burned it down. it felt so good. I have alot of work to do but it feels so real, I am doing something about it. I'd rather be a wannabe than never try.