So, if you read my "Deal or No Deal" blog, you know I was stressing a bit about figuring out a way to get my weight going in the downward direction and finding a way to begin to control my diet a LOT more than I have been recently.
I reached out to a good friend who is pretty knowledgeable in this nutrition business, as well as to a friend who is a registered dietitian (for an expert's second opinion). Both agreed that the plan could be helpful for me.
So, the plan is...3-4 protein shakes during the day (for a total of about 800 calories) and a healthy meal for dinner. This is only for about 3-4 days and the idea is to hopefully kick start a little weight loss and, more importantly, kick the cravings and get my body used to a smaller number of calories.
I was a bit skeptical, thinking that it sounded a little like some fad diet...but I figured, "Hey...it's just 3 days...might as well give it a try. If it doesn't help, it doesn't help." And my dietitian friend assured me that my body would still be getting all the carbs and protein it needs and that I should remember to keep hydrated as well.
Another reason I worried is because I have the world's fastest gag reflex and that reflex is triggered by a) smells and b) bad tastes. Even if something DOESN'T taste bad, I have a hard time with anything that is even just a bit off. This is why I have difficulty with a lot of alcohol and absolutely cannot take shots.
So, today was Day 1 of the Protein Shake Experiment. To say I was nervous would be an understatement.
Shake #1 at 8am was a Green Monster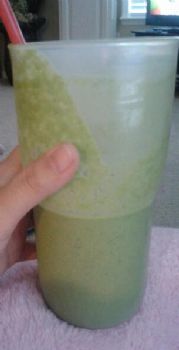 1 frozen sliced banana, 1 Tbsp Peanut Butter, 1 cup unsweetened vanilla almond milk, 1/2 cup Chobani Vanilla Greek Yogurt, 4 cups of spinach.
This shake took me an entire 1.25 hours to drink. It was really thick. But, not awful. I didn't necessarily LOVE the taste per se...but no gagging! And it was VERY filling. This one was 350 calories.
Shake #3 around 11am was Blueberry Cheesecake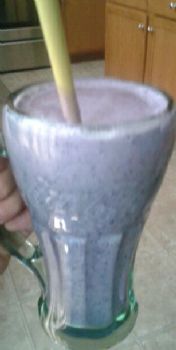 1 cup frozen blueberries, 1 cup skim milk, 1 scoop vanilla protein powder, 1 Tbsp dry Sugar Free Fat Free Jello Pudding (cheesecake flavor).
This one was DELICIOUS!!!!! I sucked that puppy down super fast! This one was also filling. And it turned my tongue blue! I believe this one was about 250 calories.
Shake #3 around 2pm was Chocolate Peanut Butter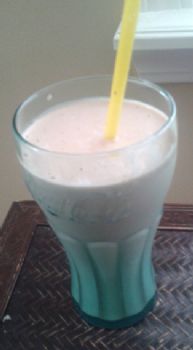 1 frozen sliced banana, 1 cup skim milk, 1 Tbsp peanut butter, 1 scoop chocolate protein powder, 1 Tbsp Ghirardelli Unsweetened Cocoa Powder
I had not felt hungry between the other two shakes, but this one was a result of some munchies and wanting to snack.
This shake was much yummier than I anticipated! This one was also 250 calories.
So, all three shakes were a total of 850 calories (in case you have trouble with adding...haha).
For dinner (sorry, no pics b/c I devoured it!), I made lemon chicken, sautéed kale and a humongous dinner salad. I can tell you now that food tasted better than it's ever tasted before! I was SO excited for dinner!
I think a part of this plan is that it really helps you appreciate real food...as in whole, healthy food...like vegetables, etc. Also, it wasn't so awful having a bunch of shakes during the day because I knew I was going to have dinner in a few hours. So it didn't feel like a huge sacrifice. And...the fact that it's only for a few days also made it not feel like I was "depriving" myself. Plus...with all that protein PLUS water...I really wasn't hungry.
I don't know if it will have any effect on my weight, but I only ate a total of 1350 calories today, so I'm hoping it will by the end of the week.
I did about 50 minutes of weights and strength training during the Olympics broadcast last night and felt really great about that...I intend to do that tonight as well. Wasn't sore at all this morning.
So...I'll report back on Day 2. I wonder if it will be more difficult or still be pretty easy like today?
We'll see!