Hi all,
I meant to add more photos from the zoo on Wednesday after my first day of work, but things didn't go as planned. I got off work and went to the pool for my work out. It was really nice and I got two good hours of swimming and exercise in outside in the fresh air and under sunny, blue skies. After that, I went grocery shopping and headed home which sounds tame enough until I tripped over nothing coming up the one little step into our house. I fell right on my face, tummy--banging my right knee good and hard. My poor knee hasn't healed from the car accident yet and I scraped it up leaving new bruises over the old bruises and a bloodied up mess. To add insult to injury, one of my doggies had pulled their food dish just to the right place by the door that my face went right in spraying kibble everywhere. It really hurt a good deal, possibly more than the car accident. Grr-rr. I have had a couple of accidents too many in recent months and my body cannot take it. I cannot explain why I fell or what happened, I think I just lost my balance on that little step that I have climbed thousands of times without a problem.
Our first day of work was a big long meeting setting us up for the program we will be initiating. It was interesting, totally put together by the Franklin Covey people, based on the 7 habits of highly effective people. It seemed like a combination of a couple of other programs I have been trained in. I have to admit that if it works the way that they suggest, it will be good for everyone in the school. I am willing to do this with enthusiasm.
Our second day, today, was a different kind of meeting day. It was like the first of such meetings that I attended as a teacher in our district. They started with a nice breakfast and social time--I got there too late for much social, but I enjoyed a lot of wonderful fruit--melon, pineapple, grapes, strawberries, apples and I topped it off with a half of a cup of grape joice. Yummy. they also had a lot of other things--bagels, cinnamon rolls, muffins, oranges, other juices, coffee, milk and tea. I typically have fruit and protein for breakfast, so I left the carbs alone. (I took a beautiful chocolate chocolate chip muffin and gave that and an apple to my son for driving me around. We had our traditional motivational talks from central administration and a chance to hear the names of new employees, and they let us out a half an hour early. I went back to my school and started working on my reading levels before our building meeting. I actually forgot to have lunch, I was so busy. It was another day of candy on every table and lots of cookies and rolls at the door. I ate a tiny Twix bar and left the other stuff alone. I am not sure why the principal feels that she must put all of that stuff out but it is something she always does. Anyway, I got past all of that and when the meeting was over, I went to the pool and then my daughter and I went back to Weight Watchers tonight. I am glad that she is thinking this way--I hope that she really starts to track food, it would be the one tool she needs to lose some weight. She works out and does a good job. I want to be pushed to start weighing in weekly and a bit more accountability than I have had in recent months. They were a bit surprised that someone who they haven't seen in 6 months came in with a weight loss since they last saw me. It wasn't quite 5 pounds, but I am glad of that and it is more reinforcement that I am able to maintain after all of these years of losing weight and gaining it back. However, I want to lose some 25-30 pounds before I have my hip replacement to make this as easy a procedure as possible. I need to be consistent and serious--not weighing in for over 3 months won't help me continually lose weight. I make good food choices that could be a bit better for losing and I am active and enjoy my exercise in the pool. I should be able to do this with a bit of focus. I suspect that I will get more support here, but I am pulling out all of the stops to get to my goal.
On a related note, our PE teacher is going to start doing the "Insanity" exercise videos in the school gym for staff members after the kids leave starting next week. Does anyone know much about these? In particular, can someone with my physical issues participate without looking entirely foolish? Can I get anything out of it or would I be better off to pass on this and stick with what I am already doing? I appreciate hearing from people I know on this--I can look up some reviews and may do that over the weekend, but I thought I'd ask you all.
Tomorrow, we are going to the Mississippi Valley Fair to check it out and then, after that, enjoying their grandstand event, an REO Speedwagon concert. I have seen them maybe 4 other times in my life. I know most of their music and am planning to enjoy this as well. Maybe, I can snap some photos of this as well...
Back to the zoo photos--we had just went to see their big bird display. They were really awesome, I love birds and I enjoy them a great deal. Quite honestly, I am a bit nervous around big parrot type birds. They can really hurt people with those beaks that are designed to break open heavy duty nuts and fruits. I saw a guy get hurt pretty awfully after messing around with a bird that was tethered to a perch at a pet store once. I am sure he ended up with a fractured finger or two (that he deserved,) but it was enough to make me respect their beauty and want to avoid them.
Nest on the path, we went to see the sea lions and the seals. They were busy and it was hard to get pictures because they were so active. If it is hard to see them, you can see how beautiful the water and the display was. :)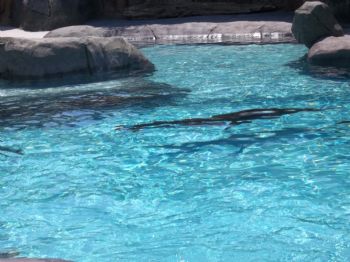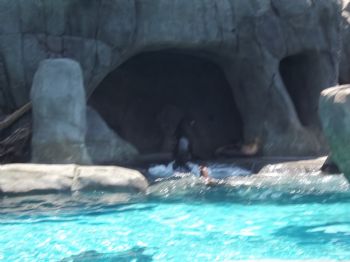 The next big display was the penguins--now maybe they were so inviting because it was so chilly in there on such a hot day, Maybe they were so inviting because Micah loves them and has collected stuffed penguins, penguin books, and penguin statues and figurines for several years. For whatever reason, we enjoyed them so much. They had three different breeds adn they were so close by that it took everything I had in me to do as the sign said, "Do not touch the penguins." I have actually regretted not touching one just to see how they felt in the water... Oh my. I almost forgot to mention the puffins that were part of the display--they were really busy and hard to get photos of, but I tried.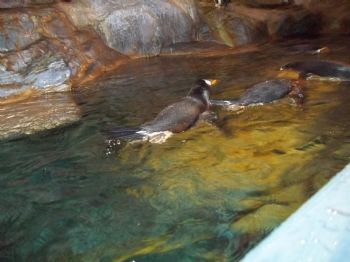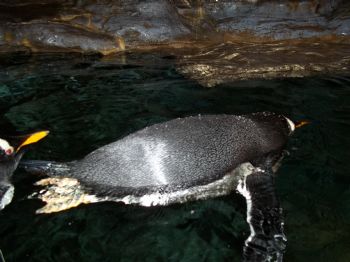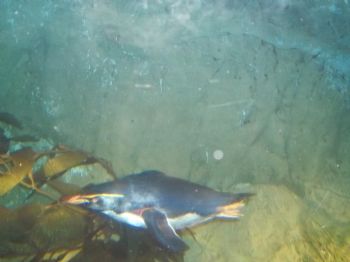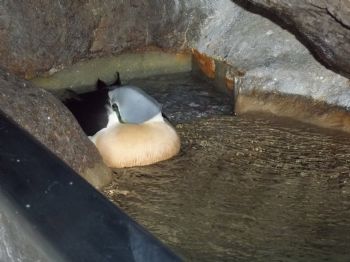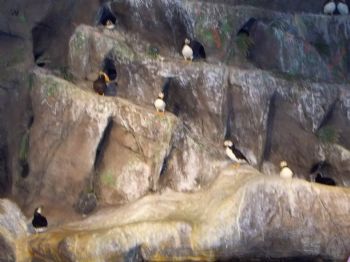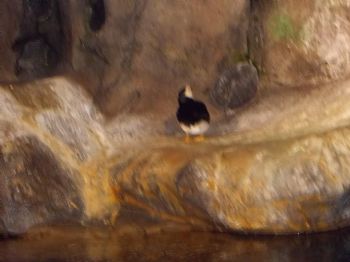 On our way to the carousel, we saw the flamingos before my 21 year old son rode on the giraffe (with a lot of prodding by his younger sister.)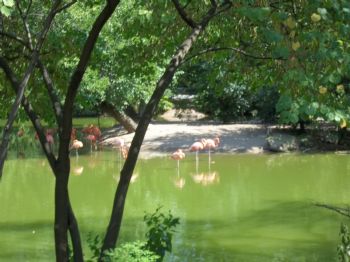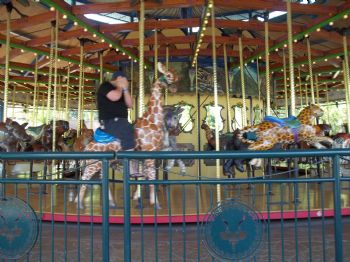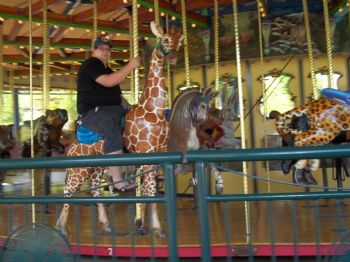 We went back by the monkeys for a quick effort to see the remaining "big animals" before the zoo closed. The big animals weren't so cooperative for photos ops, but I got a couple of almost pictures.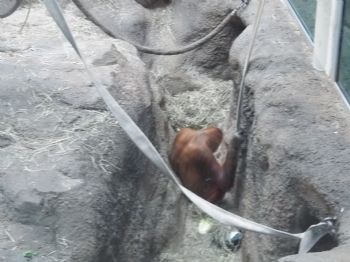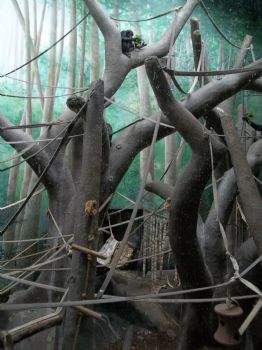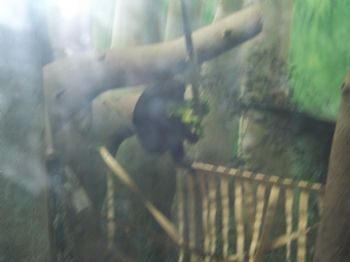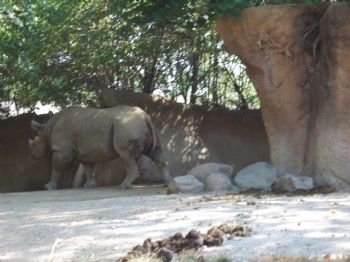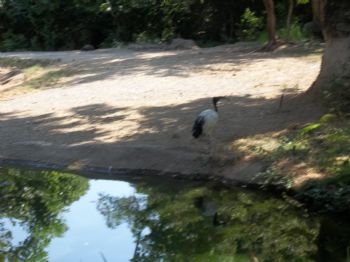 Some of the last photos weren't quite as good as I had wished, but I think the heat of the day and the late hour together worked to make the animals tired and looking for cover. I still have a boatload of photos that I took at Grant's Farm to share and I will try to add those in next--but the concert make come first.

I am excited to build play into my life a little here and a little there.
Thanks for reading my blogs and being my friends. I am back on top of my game and am ready to tackle the things I need to feel as good as I can. I have lost over 140 pounds--30 more should be a piece of fruit, huh?
Gentle hugs,
Sylvia