Lately I've seen a few blogs with before & after pictures. This is timely, as one year ago today I took my before pictures. On the morning of July 31, 2011 I weighed in at 192.4, down 4.2 lbs. from when I signed up with SP. This morning I weighed in at 160.8. So how do the before and after look?
The mug shot: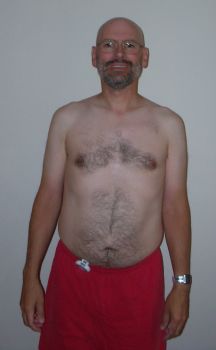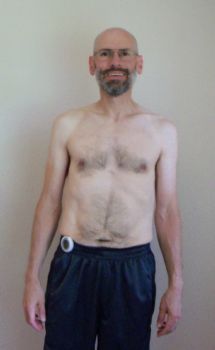 The kettlebell snatch, front view: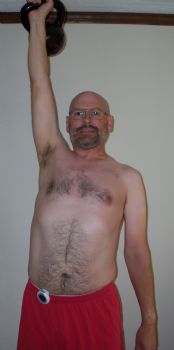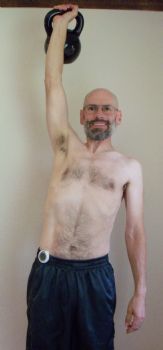 And my favorite comparison, the kettlebell snatch, side view: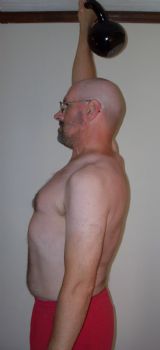 A couple weeks ago I moved a pair of dumbbells from the basement to my living room, so they'd be there when the mood hit me to do renegade rows. That let me add a shot to today's mix, the dumbbell press: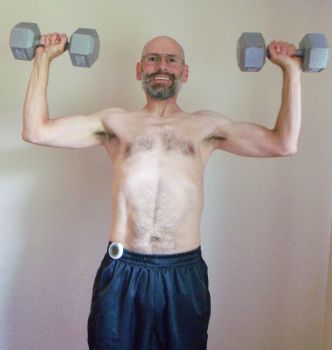 NWFL59 asked whether these were 45 lb. dumbbells. Well, that's embarrassing. They're only 30 lb. dumbbells. But the question got me thinking. The renegade rows weren't really challenging with 30 lb. hex dumbbells. So today I moved the pair of 35 lb. dumbbells up from the basement. Did one set of 10 renegade rows to test them, and they were challenging enough. I want the renegade rows to be some work, but I don't want them to be so challenging that I end up putting the DBs down hard and banging up my floor. I think I can manage that with 35 lb. DBs, but I'm definitely not there for 40 lb. DBs.
One year ago today, my goal weight was 175 lbs. I thought that was a stretch goal. I wasn't sure I could get down below 180, because I thought I'd added some muscle lifting weights. Like many overweight people, I was grossly overestimating the muscle mass I had added.
Today I don't particularly want to lose weight below 160 lbs. I can do renegade rows with 35 lb. hex dumbbells. (For those keeping score, renegade rows with hex dumbbells are easier than with round dumbbells, which are easier than with kettlebells of the same weight.) I can do Turkish get-ups, windmills, and snatches with a 45 lb. kettlebell. I can do 60 pushups. I can do 8 real pronated pullups. One year ago, I might have been able to do the renegade rows with 35 lb. hex dumbbells; but I couldn't do any of the other stuff.
Sunday someone asked me if I was all right, since I'd lost so much weight. Yes, I'm all right. I have a bit of a foot problem and can't run for any distance right now; but I'm all right. Life is good.