Tuesday, July 31, 2012
I know I have this need to see visual reminders of how my body is changing, so I have been taking pictures of my progress. I know you guys are probably sick of seeing my bathroom, but it is literally the only mirror in the apartment - sorry!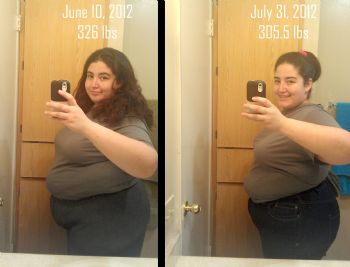 I laugh and cringe a little every time I see this picture just because of the goofy face I was making. I still include it though because I am starting to notice a change in my chin/double chin, and my cheeks.
I also wanted to point out that I am wearing the same shirt, but I tied it behind my back for this pic because it was so baggy! In the first pic, you can see the shirt is snug around my belly - not anymore!!!

Second, (and the NSV I mentioned) is the jeans I am wearing. Those are the jeans I mentioned over a month ago in my blog. I was thrilled to get them to zip, but sitting in them was uncomfortable. Well, I am pleased to inform you that I will be wearing those jeans when we go out for my birthday tomorrow because I CAN SIT IN THEM! I even have a little bit of material gathering in the butt and thighs! I cannot tell you how excited I am! I am turning 28, and I have promised myself that I will no longer be obese by the time I hit 30. No WAY!
Here is the picture from the front: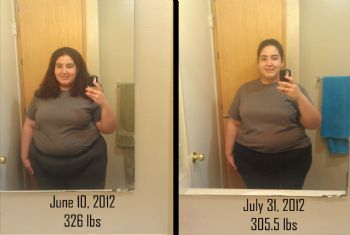 I am so thrilled. I can't wait to see the difference another 20 lbs makes!