it's true. this morning i posted a status that said for the last 7 days blah blah blah. however, it should have said 8. EIGHT! i have two days left of level one for Metamorphosis and then it's on to level two and day 11. i'm getting closer to the double digits of days and that's exciting! i think that'll really motivate me when i'm feeling like not continuing. i've already had days where that little thought started to sneak in, "what are you doing? you don't need to bother with this. you're not seeing any changes yet anyway. give up." rude, isn't it? i know! but that voice won't win. maybe that's why i get up at 6am and do my workout early in the morning? so there is absolutely no time for the voice to sneak in? the only voice i hear is mine, out loud, saying "uggggggggggh. it's early. let's just go back to bed, shall we?" but i never do. once i start getting to the day's workout i'm feeling more awake--especially since before i do anything i have a 5 month old puppy i have to take care of. look! here she is!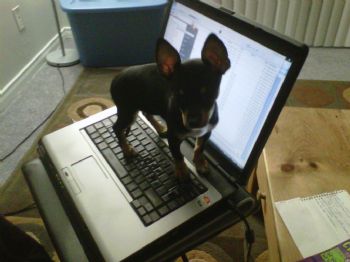 and yes, that is my laptop she's standing on. she thought, oh, you left the room? i'd like to use your computer!
while getting closer to double digit days is exciting i'm also a little worried. day ten means it's time to weigh myself and i'm afraid of not seeing any scale movement. that will bum me out a lot. i know other people have said that with this exercise plan it's taken them until level 5 to see the scale move at all, but i don't want to be that patient! but i do still need to remember that it's not just about the scale! there are also body measurements involved here and hopefully if the scale doesn't move i'll have lost some inches. if nothing happens at all, i'll be EXTREMELY bummed out and will definitely need some support and motivation to keep going. especially if the scale goes up.
in other news, the diet plan that came with Meta has been dropped. i couldn't handle it and have admitted defeat. instead, i'm finally making use of the sparkpeople meal generator and using those serving size suggestions and tracking my calories. this is what i should have been doing from the start, but i didn't want to take the time. now it's starting to become a game: can i do as well as yesterday? can i do BETTER than yesterday!?
even with all this good stuff in place for a better, more happier me i'm still worried i won't achieve what i want. i don't know WHY i'm so consumingly concerned with it; i know i'll see some evidence of change. i'm putting in an effort, doing the workouts every day that i'm supposed to, watching my eating much more carefully than i ever have in my life and, despite my fears, am trying to stay positive.
*fingers crossed and hopeful thoughts*