Since I mentioned the skirt earlier this week I had requests to see me in one, so I put it back on for my newest picture. Once again the first picture is my first body shot for comparison and the one with the skirt is the newest one for today.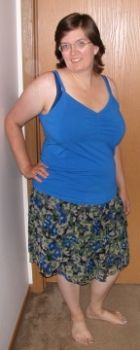 A reminder on weights for the comparison. The first picture, although not my highest, is pretty close at 222 pounds, taken in January of this year. The second picture, taken last night, is me at 186 pounds.
My scale was teasing me this morning. I had to step on it several times to get the most consistent weight, which was unfortunately also the highest weight of the morning, it went from 184.6 to 186 and 186 come up the most consistently, so that's what I logged. I am soooo close to being out of the obese range, just one more pound! At least all those weights were lower than last week, so I'm not complaining, much.
I don't think I'm working out hard enough to get better losses. I haven't had the chance to take regular walks with this heat and with a nasty cold and bed bugs this last month, I pretty much wasted my Y membership. Now I'm getting back on track and plan on going to the Y for classes twice a week. I also figured out that they're open until 10 during the week, so maybe I can use the treadmill later at night when I really feel like going for that walk and need to do it in the air conditioning. I just don't handle heat well, I can easily take a walk in 30* weather, but not this 90* stuff we've had lately, plus the humidity. 90* in AZ is nothing compared to this 90* in MN we're getting.
I'm not sure if it's just my laziness that's keeping the big losses off or the fact that it really is harder to lose weight the less you weigh. In the beginning 6-7 pounds in 3 weeks was nothing, but now I hardly lose a pound a week.
I have been working more exercise back into my schedule, but I find it's much harder when I have the kids at home for the summer. It was nothing to just go for that walk after dropping them off at the bus, I would just go from there because I drop them off basically in the park, there was no excuse. Now I contend with the heat and kids that just don't want to go out when I do. I mention it and they say "not now" so it ends up not at all because the heat goes up so quickly in the middle of the day.
No matter how I slice it, I have lost 44 pounds so far, so it's keeping me pretty much on track to lose the whole 80 pounds by the end of the year. Even if I slow down enough that it takes an extra month or two, I'm still winning the battle with this weight!