Hello all- Been awhile but I was determined to carve out a few minutes this morning to blog about our vacation which I have been meaning to do since we got home, over a week ago.
We went to St. Johnsville, NY to mine for Herkimer Diamonds (they are crystal but nicknamed diamonds because of their clarity)
This was the first time my fella and I have ever gone on a weeks vacation without anyone else along. None of the kids came and none of our friends came. It was wonderful. 6 entire days alone.
We got to our campsite on Sunday and settled in. First thing Monday morning, we were out in the mine digging.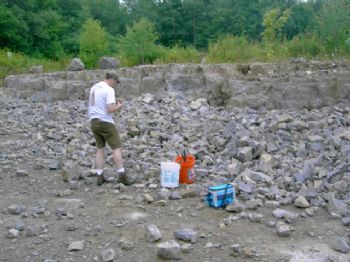 There is Dave picking a spot on the wall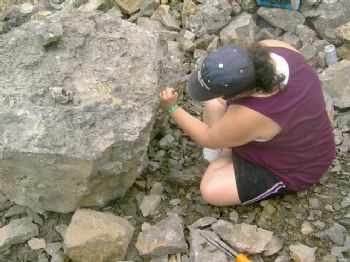 here I am in the first half hour working on a boulder.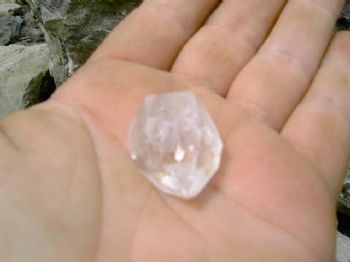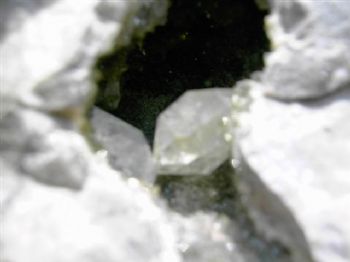 This is what we were looking for.
After several hours in the hot 90 degree sun, we went back to the campsite for lunch and to rest for about an hour. Then right back out in the mine. We mined for 8 hours that day.
The 2nd day was so hot, high 90's, that we knew we couldn't do the mine that day so we took a little drive and went to Howe Caverns which was about 45 minutes away. The excellent thing about being in the cavern-it's always 52 degrees down there. It was a glorious respite from the heat. When we finished there we went down the street to Secret Cavern and, it was also a blessed 50 degrees. There was also a lovely waterfall at the end of the cavern.

On the way home we stopped at a cute little Italian place for a late lunch and we had an unbelievably delicious chicken pesto pizza. My mouth waters just thinking about it. I felt that a couple pieces of pizza and some stuffed mushrooms were pretty decent choices considering this was my ONLY eating out experience on my vacation.
The next day it was cooler and we were back out in the mine. Which was exactly what happened the day after that and the day after that. We learned that 3 days of mining in a row is rough on the body! We were cut, scratched, scraped, bruised and sore all over and we had a marvelous time. By the way, if anyone ever wants to go do this-you will be filthy.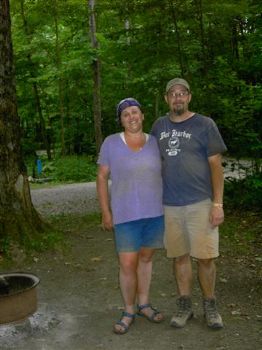 As a lasting souvenir, I will carry this sock tan line around for at least the rest of the summer. 8-10 hours a day in the mine in summer, quite a bit of it sitting Indian style results in this:
It was a wonderful vacation and we can't wait to go back again. We came home with some truly beautiful crystals and now I just have to learn how to wire wrap jewelry and Xmas presents are all set. By the way, I gained 1 lb and I believe that much of that was water weight because I drank diet soda (plus water) each day and normally I don't drink the soda. I was sad to come home!