Monday, July 30, 2012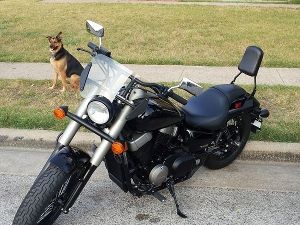 I've been distracted the last few months with my new toy. It's an 2011 Honda Shadow. My first bike. I've wanted one since I was around ten, but just never got around to it.
I took the motorcyle safety class, passed the required written and driving tests, and got my bike at the end of MAY. I prefer to ride the side streets and stay off the highway while I'm learning to ride.
I've found a way to get to work without even getting on the highway. It does add around twenty minutes to my trip, but I enjoy the ride.
I started another round of P90x and 30 day shred today. I'll mix in some taebo on the cardio days.