Monday, July 30, 2012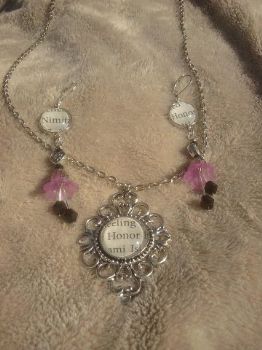 I blogged about a week ago about the wonderful Harry Potter earrings one of my friends sent me from her Etsy Shop (The Twirly Witch). Today I recieved the custom order I asked her for.
Honor and Nimitz are the two main characters from the 'Honorverse' created by David Weber. They're also my favorites. I sent a request for a pendant with both names, along with a book from the series, as she isn't a fan and doesn't have spare books laying around. Unfortunately the text of the book didn't comply with my wishes and she couldn't get both names on a pendant without cutting the edges of the names off. Darn it! So instead she sent me some beautiful Honor/Nimitz earrings and a wonderful Honor pendant. Proving that while her shop is Harry Potter jewelry, she's not at all limited to one genre.
This may sound like a shameless plug for my friend's Etsy shop. Who am I kidding? It is!
...At least in part.
However, it's also significant that I feel confident enough in myself to return to enjoying those little things that make a lady smile. Perfect earrings, made specifically to my taste, a bit of make-up when I haven't worn it in ten years, a touch of nail polish when I'd normally not bother; it's the little things that make a difference in our daily outlook on life.
I'm worth having beautiful things. I'm worth feeling like a million bucks. And, at least one of my friends agrees enough to take the time to make something special just for me. I haven't been able to say that until just recently, not in a very long time. I certainly wouldn't have bothered to see if she'd make something just for me even a year ago.
Since I'm worth having beautiful things, then I'm worth giving my all to look the way I want to look. Make sense? I'll be back on this theme in a bit and from another angle soon, because i think it's a critical part of our journey.