Monday, July 30, 2012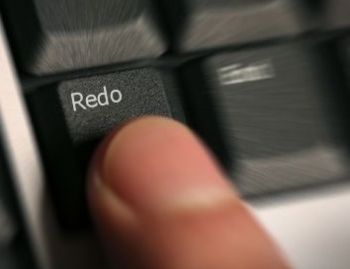 I have only been on SP for about 3 weeks. I have only been on this journey to better health for 24 days. In that time I have logged 845 minutes of fitness, drank 173 ounces of water, stayed in my suggested calorie range (except for a total of about 600 calories over), met every goal I set…and I have lost a whopping 4lbs. Sheesh. That's a whole lot of work for 4 measly pounds, right?
So I am faced with the choice of giving up or going on.
When I work on a project on my computer and I find it is not going how I wanted, I can hit the 'undo' button to get back to the point where things were the way I wanted them. If I give up on changing my health I will 'undo' all the hard work and effort I put into the past 3 weeks, but I will not end up in a better place, a place where I want to be. So instead, I will hit the 'redo' button. I will redo all the things I have been doing right for 3 weeks…drinking water, exercising, tracking my food, staying the course that leads to better health.
I will celebrate this small victory of being 4 pounds closer to my goal. I will acknowledge that it's going to take time to turn this ship around, to retrain my mind and my body to choose healthier foods, to get regular exercise. I will not beat myself up because I am not losing as fast as you or somebody else. I will not hit 'undo'!
I choose to keep going on because…quitting is not an option.