God....and the fat girl. Help please?
Sunday, July 29, 2012
So, I decided to break barriers and go to church today. Somehow, I figured I would feel most comfortable at the BIGGEST church in Birmingham, AL. The Church of the Highlands. Here's a picture.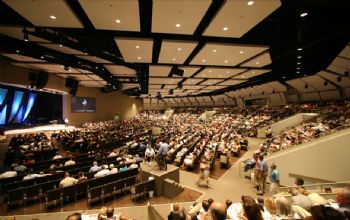 I went here because of two reasons. One, my mother loved Calvary Assembly ( a megachurch in Decatur AL) and I felt home there. Two, I prefer radical churches that would understand that I don't identify myself as a Christian. I am a Christ believer. Big difference. Trust me.
Anyways, I post this because of a big issue. I saw hundreds of people and felt that they had the bodies that could help the kingdom of God. They are accepted by society. Beautiful women, with beautiful husbands and children. As a fat girl, i've yet to feel real beauty. I feel that I only bring shame to the kingdom. I felt odd, and out of place.
Sometimes, I wonder how God could love me when his very creations label my existence as shameful. An alcoholic and drugie can put on nice clothes, add makeup and hide their sins. I hold my issues with food where everyone can see in pounds. Has ANYONE ever felt the same way? How do you face those thoughts?
But enough of that. I hope you all are great. :D Happy Sunday.