Sunday, July 29, 2012
This morning I decided to go for a walk and take my dog Sable with me.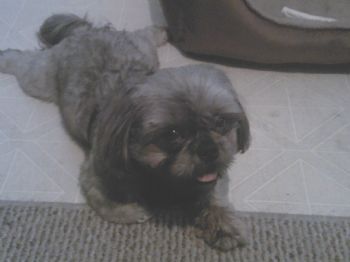 Walking the path at the college seemed like a good idea at the time. Not taking into consideration that Sable will get tired and lay down in the shade, several times. He is a really good dog so I took him off the leash to let him walk a little ahead and rest in the shade (bad idea). Sable proceeded to start running very fast ( I call him my little greyhound). I tried to walk faster to catch up to him but he kept going Finally he stopped, far ahead of me and laid down in shade once again. I though good he'll stay there. Not so, before I knew it Sable was running down the street in the middle of the road. It's a good thing there's not a lot of traffic on Sunday morning. So, here I am jumping over this 4ft fence running after him in the middle of the street. (Me running, that's a sight to behold). Luckily for me a man and woman were driving by and saw me chasing Sable, they stopped and the man got out of the car and stopped him. I ran up to them thanking him over and over for stopping. The man asks Sable where he was going, I told him he was running home. Than man says to me "That's funny as he and the woman start laughing". At the time is wasn't funny but now I can't help but laugh at myself. I truly burned about 300 calories this morning. I don't think I will take him for that type of walk again.