Saturday Night Ramblings: How do you figure out the size of a screw...
Sunday, July 29, 2012
if it's fixed and cannot be removed to take to the hardware store, but desperately needs a nut?
I'm serious.
Any wisdom?
I know, wrong website for this; maybe I should submit my question in the "technical help forum". Haha.

In Spark-related news:
In July I have not only met, but surpassed, my monthly fitness minutes goal of 1000. And I had a lot of fun doing it.
My weekend fitness minutes are spent in beautiful surroundings like this (photo from today's hike):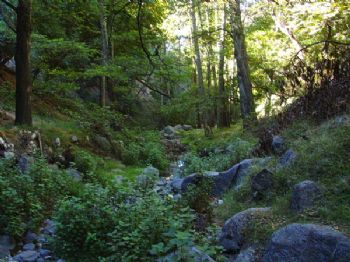 Looking forward to continuing this trend in August.
Focus in August needs to be on my house. I have a bunch of minor maintenance items which need to be taken care of (finding a nut to the above mentioned screw is one of them), plus it is overdue for a top to bottom deep cleaning, and could also use some serious decluttering. If I work diligently throughout August I should be able to get this done satisfactorily.
What has to give to fit this in? Couch time!!!
I'll actually sit down and work out a plan. Yes, it's THAT important.