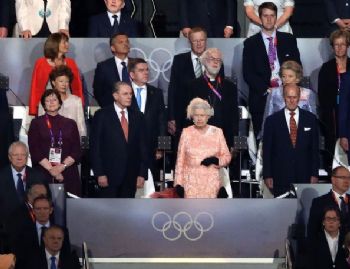 I do love the Queen of England! Well, I mean, in that abstract way one loves some celebrities and public figures, except for Tom Cruse. Well, even more since her reign has spanned my lifetime. And I am 62.
Some might claim that she hasn't had a rough day in her life, protected by her butlers and public keepers. Besides, the British parliament holds the true reigns of power. She only advises and implies; she rarely conveys a public opinion. And she hasn't always been protected by her protection service, having been shot at (luckily, with blanks) while riding on her horse in a parade and even assaulted in her own bedroom.
It was a rare day, indeed, when she expressed that it was an "annus horribilis" the year Princess Diana and Prince Charles were separated and Fergie and Price Andrew were divorced. (I think those facts correct!) And despite her husband's rumored dalliances, she's remained true. In fact, it's said that she adores Prince Philip! She also showed great patience to her sister, Princess Margaret Rose, despite her life-long struggle with alcohol and substances. And it must have broken her heart to have to break her sister's heart by forbidding her marriage.
When Elizabeth lost both her beloved mother and sister within months of one another during the same year as the celebration of her fiftieth year, she didn't roll over and say, "Go away!" Sadder still, she had little time with her children while they were young because of her responsibilities. She's sacrificed her life to the monarchy.
One could say, the Queen is a loyal plodder. (In farm talk, a plodder is a horse that doesn't have to be reigned in or guided but has learned the trail thoroughly.) Her nose is to the grindstone, no matter what. She examines two boxes of governmental documents daily, reads current events voraciously, and makes governmental decisions with few wrong calls, travels the Commonwealth often, and now pays her own way.
Let's not forget that she's the longest reigning ruler in modern history. Elizabeth pledged to her people early in her reign that she would be their queen for the rest of her life. There is no walking away, no matter the infirmities of age. She is pushing 90, and still had the stamina to make it through her Diamond Jubilee ,obligations as well as the long opening to the 2012 Olympics. (Tell me that you didn't need to use the restroom!)
She may have a thin, high-pitched voice and an uninspiring wardrobe, but her hats are truly entertaining! ... as are the affairs of her children and grandchildren. Her race horses might have not done that well, but she pours her heart into them from birth to old age. And her Corgis are almost as amusing as are her grandchildren and great-grandchildren!
What does this biog have to do with healthy living or weight loss? Have you ever seen the Queen over-weight? (Yes, I know, she wears shapeless coat-dresses; but she use to have quite the figure in her youth!) And she walks about and stands for hours shaking hands with dignitaries and exchanging pleasantries with her public with nary a whimper.She just keeps passing bouquets of flowers to her helpers seamlessly, without one noticing, and tries not to commit faux pas. She even passed on sipping the Guiness at the brewery!
Until further notice, I am an Anglophile! Long Live The Queen! (...and god bless Mr. Bean!)
http://youtu.be/cE4z4WUNpwo