We traveled to our property in DeLeon, Texas today, a 2 hour drive one way. We were towing a flatbed trailer with our tractor on it, the goal was to mow the "Park" area under the oak trees.......
DH started out on the tractor, while I rode the John Deere mower. This may not sound bad, but the temperature today was well over 100 degrees, and the sandy base to the soil makes it fly up all over the place when mowing, raising a lot of dust. It gets in your eyes, your ears, your nose and even your mouth (If you have it open, which I often do..........

Needless to say, by the time noon came, I was COVERED in dirt! What makes it worse is that I have to apply sunscreen before mowing, the better for the dirt to stick to me! I was pretty filthy but tried to wipe off a bit with a damp towel so I could eat lunch!
After lunch, I was right back at it, after applying more sunscreen, of course! The good news is no sunburn, the bad news is it was HOT

and I was so dirty!!

I absolutely HATE being that dirty but I love the way the "Park" area looks after mowing!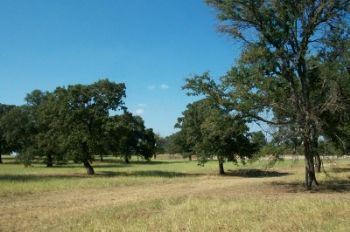 This is a picture of a small part of the "Park" taken a couple of years ago........It looks pretty much the same, now.
This is the land that we regretfully put up for sale..........We love it out there, but with me working part time, we want to sell it to pay off our house here and our pickup. We are open to whatever happens, though............We also have our house for sale, so if it goes first, we will probably end up in DeLeon

It is WAY far AWAY from the population of the Metroplex, and everyone out there is friendly and hardworking. It is so BACK to BASICS AMERICA, which is something our country desperately NEEDS right now!

(Can you tell that I am not a fan of the cities?)