Saturday, July 28, 2012
Well, I was brave today.. After work I headed to the gym. Saturday afternoons are a perfect time to go. Because its quiet , and for someone like me who is not sure what she is doing.. this is what I needed.
Any how It went well.. I remembered (i think) all the details. and followed through. It took total 1 hour and 10 minutes.. I was worn out by the end, even a little nauseus.. I know that is not a great thing to happen.. But my body is just not use to this level of activity squished into 1 hour.. (which is the goal)
It happened last week too.. the last 5-10 minutes.. Like I said i'm so physically challenged it causes that reaction in me. Wondering if maybe I should eat closer or do a snack closer to my work out time.. not sure. if anyone has any thoughts on this I"d appreciate it.
So I had a very good couple of days eating wise. I am posting on the gyms on line nutrition web site... my range of calories running about 1400- 1600
Anyhow set on this journey.. and just doing it.. Not thinking too hard about it.. Paying attention to my thoughts.. and keeping busy.. I have not been craving the junk at all.. although the thought does pop in my mind every so often.. So just letting come and I let it go. Not sure why this time is different.. Seems like I"m really ready.. or possibly spending money is motivating? Thats a huge part of it and also I"m so tired of being like this.. FAT, Clumsy, tired,issues with my cloths not fitting well.. feeling bad about myself..
I want to feel confident, happy, comfortable in my skin and clothes.. and be more active in the future.. have a great sparks day!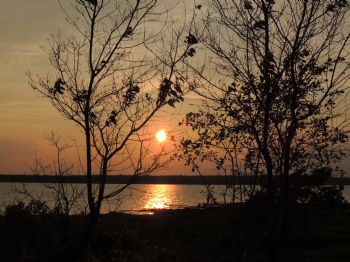 just a pretty sunset picture.. enjoy Diane