Friday, July 27, 2012
My poor baby...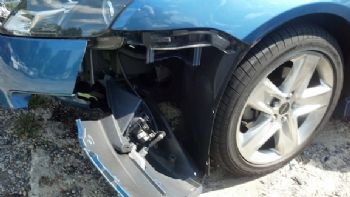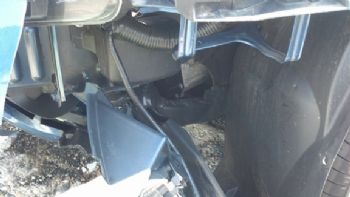 I don't have a front picture; but from the bumper down is pretty much gone. We're waiting on estimates and I'm hoping they won't total it; but who knows. The fire department actually cut my battery cable because the horn wouldn't shut off. *sigh*
The scariest part... my DD was in the car with me. It could have been so much worse than it was. I was the 3rd car back. Some guy driving a van southbound crossed over the line and hit the person 2 cars in front of me and spun her around. The person directly in front of me swerved to miss but hit her as she spun and had damage down the whole side of her car. Me, I saw him crossing the line so I was slowing down; but the whole wheel was ripped of the van and it came flying my way. I'm just glad I was able to swerve enough to keep it from coming through the windshield. As it was the airbag deployed which is how I was primarily injured. DD was fine. It wasn't too harsh of an impact for her. It was primarily my breaking that stopped us. The wheel hit the sensor dead on (at least that's what I've been told) which caused the airbag to go. I went to the hospital since me and the first responders were pretty sure I had a broken arm. Thankfully I didn't. Just a lot of soft tissue damage to my arm. So, I'm going to quit typing now... I think I've reached my limit. DH said we made the news... a 4 car pile up shutting down one of the main roads around here. Yep, leave it to me to find a new way to avoid needing coffee in the morning... LOL!
Many, many thanks in all seriousness. No one was badly injured. The woman who was hit first has a back injury and my arm is pretty messed up; but we all walked away. Considering it's a pretty rural road with lots of trees and a pond right next to us, I'll be counting my blessings.
Spark on my friends! Tomorrow is a new day. Let's make the most of it!
Chris
PS - I almost forgot... I did my morning workout again this morning before all the fun. I'd like to tell you what I'm going to do tomorrow morning; but I think I'm going to make tomorrow a rest day.