There have been two times in my life where my Dad has left me notes and each time they were for something important to him, but he couldnít bring himself to tell me in person. I used to be very bad about not being able to tell someone how I feel, but am glad Iím over that now. Although he wonít be able to see this (yet, am thinking of typing this out and giving it to him), I feel like I NEED to do this in order to let a painful part of my past go. I need to embrace my life instead of wallowing in my pain. I need to embrace the life Iíve been given and finally LIVE IT. I am sharing with my you, my SparkFriends because I trust you and I feel comfortable to share my story in hopes that someone else will have the courage to WANT to be free.
My name is MissB8604 and as a child my Dad used to hit me more than I think a parent should have. Thereís a fine line between discipline and downright beating, and my Dad walked over that line more times than I care to admit. I realize now that I lived in fear. Fear of getting hit. Fear of getting yelled at. Fear of getting in trouble. I wasnít a bad kid. I got decent grades, was involved in the arts (duh) and laughed all of the time. In fact, I got in trouble for laughing a lot and often had to sit out of recess because I was interrupting class with my laughing. Despite what was going on at home, I still found reasons to laugh. I had a nice life, got what I wanted and had a very active imaginary life. As an only child, I had to find ways to entertain myself when I got home from school and ways to escape what was going on. Disney movies helped me escape. I knew every word of a lot of Disney movies (still do) and would often sing and dance in my room. I dressed up in homemade costumes and performed the Disney movies for my stuffed animals. Indication of things to come huh?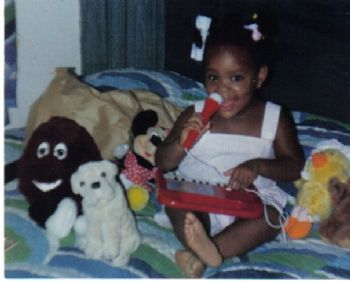 Dad was mean. Dad was scary. Dad was intimidating. I remember times when my cousins and I would get in trouble for something, and heíd sit us one by one in the bathroom in the dark for a certain amount of time. Why? I couldnít tell you. Perhaps because it was how he learned to behave as a child or what might have worked in the military when he was fighting for our country in Vietnam. I donít know, but this is what happened.
At the mere raise of his voice, I instantly began to cry. Instantly. Not just weep, but full on sob. Panic would set in.
ďWhy are you crying?!Ē
ďYou better stop crying before I give you something to cry about!Ē
ďSTOP CRYING!Ē
I remember a particular instance of his tyranny when I had a set of math problems that I needed to complete for the next day. My Dad sat me at the table, and for each and every wrong answer, I would get hit. His way of getting me to get the math problem correct was to have me spread my fingers out on the table, and if I got them wrong, heíd hit my fingers (where your nail bed is) with the end of a pencil. Not the part that writes, but the part with the eraser and metal. Now, for a little kid, this HURTS. Heck, it still even hurts now (I tried it to see if maybe I was overreacting). This kind of punishment happened often. Weekly.
When people talk about their childhood and how much they remember, I envy them. I donít remember too much. I remember certain places, certain happy times, but overall I donít remember a lot. I guess I blacked out. I remember dressing up in a princess costume and feeling like the prettiest girl in the world. I remember singing Aretha Franklinís ĎRespectí in front of my entire elementary school and having teachers tell me I was destined for greatness. I remember falling asleep on my Grannyís shoulder like it was yesterday. I remember having a meltdown in front of my 6th grade teacher and her looking on at me so concerned (she knew something was going on at home). I remember feeling like some kid nobody cared about when I couldnít get picked up until almost 7pm at day care. I guess you could say thatís a lot for a kid to remember, but if you notice that has nothing to do with being at home. I donít remember much about being at home.

Always was a Diva.
To this day, I have anxiety about my Mother falling asleep. Iíll explain why. My Mother worked very hard and made a lot of money and because of this her bedtime was around 8pm. I didnít see my Mother much, and clung to her whenever I could to get away from him. When 8pm rolled around and I knew she was getting ready for bed, I would SCREAM to her inside my head. ďPlease Mom! Please donít go to bed! Please donít leave me with him!Ē She never heard me. 8pm and beyond was his domain. Christ help little MissB8604.
I'm on the far left holding my baby cousin. Obese from a young age.
My Dad made my life a living hell. My Mother didnít do anything about it and when I asked her about it as a young adult, she dismissed me. She has once said that had she had known what he was doing, she would have skinned him alive and that made me feel better for a while. But then she started dismissing me and my feelings. Saying I was overreacting. That hurt. It hurt so badly. It hurt so much that Iím still having trouble dealing with it. Sheís next on my list to confront.
I donít trust men because of what my Dad did to me. In fact, at times I can honestly say that I hate them.
My Dad continued to hit me up until my senior year of high school when I had finally had enough. I was in trouble for my English grade and was mouthing off to him about it. We were on our way to the mall one hot summer day when my mouthing off was on another level of disrespectful. It wasnít until my Dad decided he wanted to back hand me in my face when I blacked out. When I came to, the ring my Mom had given me was broken and my Dad wouldnít stop staring at me while he drove. He looked shocked. He looked horrified. I donít know how we didnít get into an accident. All I can remember saying is, ďDonít you F***** touch me!Ē From that day forward, he has never hit me again and that incident was barely spoken about between my Mother and I. I just couldnít imagine that this man, who coached all of my friends in both elementary and high school in sports, was everyoneís favorite coach, would come home and raise hell with me. He loved my friends, bought them things all of the time and was very kind to them. All of my friends loved him. All of my friends wanted my parents to be their parents. I would have just preferred to live with my Granny. My Granny was my everything and was my only source of unconditional love in my life. She passed away 5 years ago.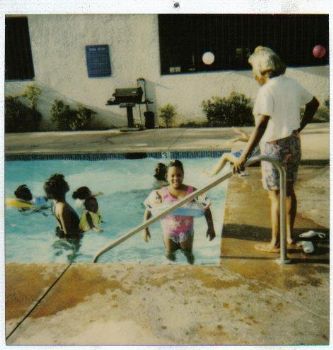 Granny is in the shorts on the right.
Today, my Dad and Iís relationship is non-existent. I no longer fear him. I no longer cower when he comes home. When he decides to yell, I yell back. It may not be ideal, but its life. Itís the only way I can deal with it. In fact, I feel like heís an older roommate in the house. He tries to be supportive in my endeavors with the arts, but I feel like heís just going because my Mother is going. Weíre pleasant with each other and sometimes even laugh about things, but overall I donít care to talk with him. I canít. I deal with him and only respect him because heís the man that gave me life. Thatís all. Do I love him? I canít answer that for sure. All I know is that I am damaged person because of this and have to rebuild my entire psyche. I will not however let this beat me. In order to become the person I deserve to be (and know that I am), I need to let this and some other things go. I need to confront my father and I need to move on. I guess I see him for just the little man he is, the human being who has done some pretty terrible things in his life and is paying for it even now.
This amazing, joyful little girl will not be broken. Never. No longer will I let the fact that my Dad used to beat me as a child hold me back from the greatness that is in store for me.
My name is MissB8604 and I am filled with joy.