Thursday, July 26, 2012
Yay! one more day till cheat day. Im gonna make cheesecake cupcakes. om nom. one of my fav. i love experimenting and making new stuff. i was thinking about making a whole big batch and taking some into work as well, but i would have to do them cool kid style via my bloody broken glass cupcakes. i have only make them once, it was for a friends bday party who is into macabre and whatnot. its really easy. you make the cupcakes and frosting as you normally would, then you candy up some sugar, corn syrup, water and cream of tartar i believe are the only ingredients. you hard ball it and pour it onto a cookie sheet (with edges) to harden, then break it up so it looks like glass. so fun! let me see if i can find my pictures. ..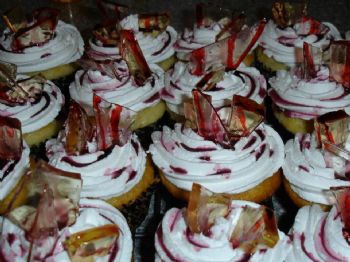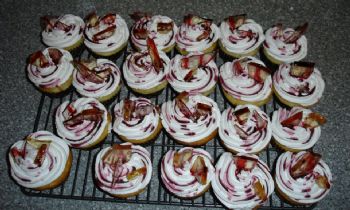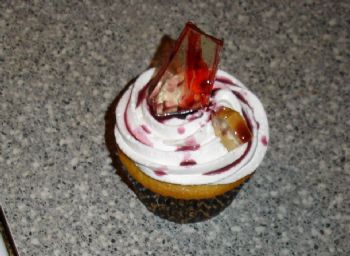 yaaaaay cupcakes! i had so many people at that party who said they wouldnt touch them until i ate one because they looked so convincing. so much fun!
so, maybe i should make those for my co workers. im not sure yet. i would then have to have one, and well, hm....anyway hahahaha!
i am feeling more determined now. fun time is almost gone so i am starting to feel like my normal self again. back down to 164 so thats good. i pumped myself up this morning with my favorite motivational song eveeeeeer. i will post the link down below. but, DISCLAIMER, it is age restricted, there is violence and nudity, so, you are warned. you will most likely have to sign in onto youtube before you can even watch it actually. but, its my fav song, especially during running and finals.
www.youtube.com/watch?v=
0BMWq4AERzk&oref=http%3A%2
F%2Fwww.youtube.com%2Fresu
lts%3Fsearch_query%3Dcan%2
Byou%2Bfeel%2Bthe%2Bbeat%2
Bnachtmahr%26sa%3DX%26spel
l%3D1%26search%3DSearch%26
oi%3Dspell&bpctr=1343323333&skipcontrinter=1