What is important to you? What is your priority in life RIGHT NOW? There are so many people I know that see how much weight I've lost and say different things from "Well I tried cutting out sweets but they are just always in front of me." or "I just don't have the time you do." or "I just don't have the willpower you do." And you know what, I used to say all the same things. I think we'll say anything that pops up as an excuse. It's natural I guess. But I think what it is is FINALLY figuring out what's important to you. Getting healthy to feel better about myself and to be a better example to my boys finally became a top priority to ME. You have to really change your whole mind set. "This is how I WAS living, and it was NOT working. This is how I WILL live." And there have always been skinny healthy people running around so YOU KNOW it's doable. YOU KNOW IT IS. It's just finally making the decision that you want it bad enough. That it's THAT important to you and your life RIGHT NOW. If you say I'll start Monday, then you've already said it's not important enough to start now. If you say, I don't have a choice, that's what my husband brings home..that's what they had at the party. BOLOGNA! YOU ALWAYS HAVE A CHOICE!!! YOU bring what you can eat to the party. YOU can bring into the home what you are willing to put into your body. YOU are the ONLY PERSON with the power to control what you eat and what you put into your body. It's no body else's fault. (Well unless you're a child and then you wouldn't be reading this.) :)
It's not always easy. But it is mind over matter. Deciding what's important to you. When you're at the cookout and you are SURROUNDED by fried chicken, potato salad, and pies.. you have to decide, Is it THAT important to me? Is eating that fried chicken worth the risk it puts on my health? Is it worth living the life I'm living now to continue eating this way? Or is it worth changing my WHOLE plan, my whole way of eating, to be able to live healthier and happier and to be able to wake up in the mornings proud of myself? You know giving into those temptations led you to the point you're at now, WHY would it be any different now? It IS doable. It IS worth it. You ARE worth it. I AM worth it. No excuse is worthy of the life you could be living. YOU ARE NOT GIVING UP FOODS!! You are learning about new ones. You are choosing different foods. You are gaining a whole new life, a happier healthier one.. one worth living...one worth smiling about.
You must make a pledge to yourself..
NO MORE EXCUSES!
No more feeling like you have to deprive yourself. You are choosing what is right for you. Do you feel like you're depriving yourself when people walk by smoking? Or do you feel like you are making a healthier choice by CHOOSING not to smoke?
Change your mindset! Decide what's important! Have tunnel vision. Block out what's not. Fried Chicken is not important!! (Marc brought home fried chicken the other night for the boys and I feel like I can still smell it, so I'm talking to myself here too.)
Decide that you and your family are worth it. This is your legacy. Will your kids be eating fried chicken and struggling with weight issues or will they be making smart choices because they saw you making smart choices?
YOU ARE WORTH IT!!! I AM WORTH IT!!!
Decide that you CAN do it!
YOU CAN DO IT!!! I CAN DO IT!!! This is an everyday decision! Everyday I have to get up and decide, I CAN DO THIS!!! Some days it comes easier, some days I have to give myself a pep talk about why I eat the way I do on here like today.. BUT it is SO worth it!!! I CAN DO THIS!!!I AM WORTH IT!!!! I WILL DO THIS!!!!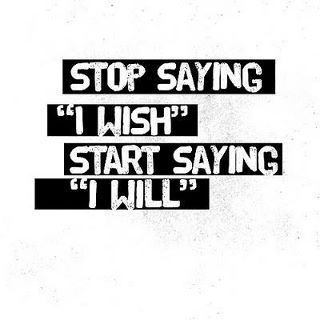 Time to weigh in!



December 12th HW- 205
January 12th GW- 195 DONE!
February 12th GW- 187 DONE!
March 12th GW- 180 DONE!
April 12th GW- 172 DONE!
May 12th GW- 165 DONE!
June 12th GW- 157 DONE!
July 12th GW- 150 DONE!



Yesterday's Weight: 150.6
TODAY'S WEIGHT: 150



August 12th GW- 145
September 12th GW- 142
October 12th GW- 139
November 12th GW- 137
December 12th GW- 134









THIS WEEK'S CHALLENGES!!!
Sunday: DONE! Playing in the Pool!
Monday: DONE! ZUMBA!!
Tuesday: Cardio!! NOT DONE! :(
Wednesday: DONE! Treadmill, Zumba, AND Yoga!! Woo Hoo!!!
Thursday: Cardio!!
Friday: Cardio & ST!!
Saturday: Cardio!!