Let the games begin! Citius, Altius, Fortius - Faster, Higher, Stronger!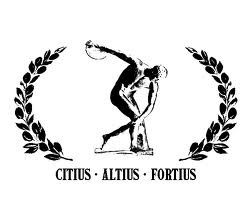 Here is a link to several interesting facts about the Modern Olympics.
This includes the oldest and youngest male competitors and why the Marathon is the distance it is.
factsofolympics.blogspot
.com/
Some of my favorite Great American Summer Olympians:
Wilma Rudolph - polio survivor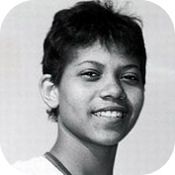 Flo Jo - Florence Griffith Joyner 10.49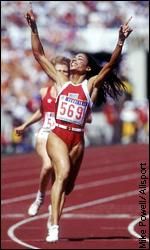 Sanya Richards Ross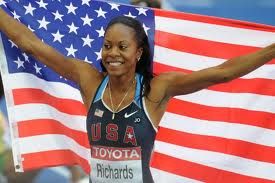 Jesse Owens proved Hitler wrong

Allyson Felix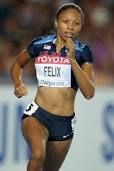 Babe Didrikson Zaharias - qualified for too many events to enter

Jim Thorpe - Native American acknowledged as the Athlete of the Century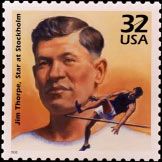 Carl Lewis - most medals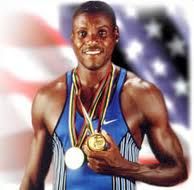 Jackie Joyner Kersee - Greatest Female Athlete of the 20th Century

Mark Spitz - who can forget this poster?

Michael Phelps - going for gold in London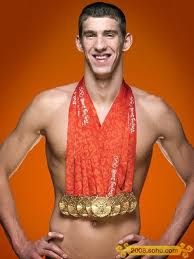 Al Oerter -Gold in 4 consecutive Olympics

Dick Fosbury - high jump will never be the same since the Flop
1992 Dream Team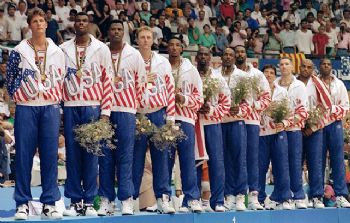 Bob Beamon's Long Jump 1968 - 29 feet 2 1/2 inches
www.youtube.com/watch?v=
DEt_Xgg8dzc
Nadia Comaneci - The first perfect ten was too much for the scoreboard!
www.youtube.com/watch?v=
4m2YT-PIkEc
Olympic Athlete's Oath
In the name of all the competitors I promise that we shall take part in these Olympic Games, respecting and abiding by the rules which govern them, committing ourselves to a sport without doping and without drugs, in the true spirit of sportsmanship, for the glory of sport and the honor of our teams
For more historical pictures
50 Great moments
www.guardian.co.uk/sport
/series/50-stunning-olympi
c-moments
20 most memorable moments
www.sfgate.com/olympics/
slideshow/Top-20-most-memo
rable-Olympic-moments-4652
1.php#photo-3238676
30 Great Highlights of both Summer and Winter Olympics
www.olympics30.com/
* Inspirational VISA Go World Ads *
Injured but brave
The Derek Redmond Visa ad
www.youtube.com/watch?v=
BU3jfbb172E
Keri Strug Visa ad
www.youtube.com/watch?NR
=1&v=yYSacT1iHi4&feature=e
ndscreen
Bob Beamon Visa ad
www.youtube.com/watch?fe
ature=endscreen&v=pG35D9Ty
6Do&NR=1
Dick Fosbury
www.youtube.com/watch?v=
0RO1e9BwBys
Paul Hamm
www.youtube.com/watch?fe
ature=endscreen&v=Dy6w4w1q
k30&NR=1
Cheer - Go World
www.youtube.com/watch?fe
ature=endscreen&v=KOOoPOtc
kpU&NR=1