OK, so you know when it's storming really badly and then THIS happens?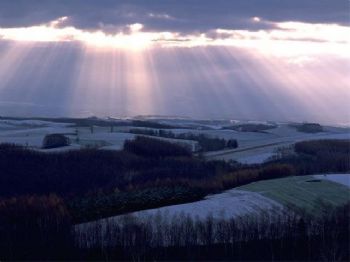 It doesn't matter how many times I see it...when the sun's rays burst out from behind a dark cloud, it is ALWAYS breathtaking.
Today...I feel the light piercing through. It's amazing how a person can feel so broken one day and, after a good night's rest, wake up and just see things differently. I suppose it's not that surprising...I am generally a positive person. The times that I give in to depression are few and far between. I'd say it happens a couple times per year and then I'm done with it. I guess it was just my time this past week. Granted, a lot of things really came down on me all at once...so it makes sense, I guess.
That big, grief-filled emotional issue I have been dealing with seems to have taken a turn today...it feels like I am settling into a new normal there and I can't even tell you what a HUGE relief this is for me! It's like a 50-lb weight has been lifted from my heart. There's a little lingering confusion, but relationship has been restored and healed up to a point. And that is always good.
And now the info you've all been waiting for...
I went to the ortho today to have him look at my ankle. Got some x-rays and talked to the doc. So, apparently, it is possible that there are two things going on here:
1. Posterior Tendonitis - Basically, the tendon in the back of my ankle is not strong. When I pronate my foot, it wears it down too much. I need to strengthen it if I'm serious about training for a half marathon (so I begin physical therapy for this next week). He also prescribed custom insoles for my shoes to try to bring some stability to that area of my foot.
2. He noticed a lucid spot on my x-ray in the cartilege of my ankle joint, which could mean that it's chipped away. He couldn't see it well enough, so an MRI is necessary to get a high resolution image of the area (my hardware is in the way and blocking the view). I am scheduled for an MRI next Wednesday. Then, I have a follow-up appointment with the doc the following day to discuss the results. I asked him what it would mean if there WAS a chipping away of the cartilege. He took a deep breath and said, "I would have to treat it like a fracture and recommend a non-weight bearing course of treatment blah blah blah blah blah." He literally said the words, "blah blah blah blah blah"...giving me the idea that it would not be speedy recovery.
How did this happen? Aside from my tendon not being strong enough (which is simply due to not enough use since it's healed from the accident), the cartilege issue is because of my weight repeatedly pounding on the cartilege when I run.
Today, I have so many thoughts swirling in my head and if you care to keep reading, I will share them with you:
1. How could I expect to let myself go for so long and NOT have some consequences to face due to my excess weight?
Especially when we are talking about running. I have read that the force on your feet when running can be up to three times your body weight. That is over 600 lbs of force on my already-weak ankle. To think of it this way...my injury shouldn't be a very big surprise. It's a bummer, yeah...but it's just something that I need to deal with and move past. If anything, it's more of a motivator to get this weight off as quickly as I can!
2. I can't stress this enough - the Olympics could not come at a better time. It's no secret that I'm excited to watch them (I did take two weeks off of work so I can watch them 24 hours a day for two weeks! Seriously!) I have hit a small bump in the road this past week. I am sure the inspirational stories of the Olympic athletes will give me JUST the kick in the pants that I need to get back in full gear with my eating and working out, whether that be elliptical, pool, stationary bike, whatever. I've got to do SOMETHING. I can't lose this momentum!
3. How lucky am I to have a doctor that is an EXPERT in the field of sports medicine to help me get through this first injury as a runner? Not only does he have a full history of my past injuries, but he knows my goal of training for the half marathon and he knows exactly what I need to do from a physical standpoint to get to where I need to be by October. If this man can't get me running again, there is no one that can. A non-weight bearing course of treatment would definitely suck for the next who knows how long...but, in October, I wonder if I will be thanking my lucky stars that this happened at the very beginning of my training shedule and not two weeks before the race.
4. And, finally...it all comes back to SparkPeople. As always. My girl RAMONAFLOWERZ just had knee surgery yesterday. This woman has got a LOT more going on with her knee than I have with my ankle (even if the MRI DOES show a cartilege chip). I've been writing to her telling her that she WILL bounce back from this and she will come back better than ever and that she is so fierce (because she IS!) I was just thinking today, "How DARE I say all those things to her and then mope about whining about my ankle issues, like it's the end of the world?" Look...if Ramona's fierce, then dammit so am I! And you know what? We are going to kick these injuries in the as*s TOGETHER. So, girl....it's you and me. And we've got to keep a positive attitude. It's all we have at times. We CAN do this!
The best part is...we aren't alone. Can't even tell you how many amazing messages and comments I've received over the past few days. Thank you, friends.
The sun is bursting through the clouds. And, for that, I am so grateful.