My brother and I have been tossing around the idea of going up to a convention in Dallas for a day. The con is labor day weekend, so I still have a ways to go until then. I haven't dressed up in forever, and I thought it might be fun to cosplay if we get the chance to go. SInce it would be one day only, and we wouldn't get a hotel room, I'd pick one outfit and keep a change of clothes for the trip home.
Since I've been cosplaying off and on since around '99, I figured I'd have a TON of costumes to choose from! So wrong. So, so wrong :(
First off, I purged a massive ammount of costumes about two years ago. Even though I was thinner when I started, I was also inexperienced. All my best quality work is from the last 4 years or so!
Secondly.. I'm not losing the way I gained. It's weird, but I should have expected it. I don't know how else to put it. When I put it on, it went in certain places in a certain order. Now, I'm taking it off, and it's coming off in totally different places. So.. if I had costumes from back then that fit, they wouldn't fit properly.
Thirdly, the stuff I did save that is really nice... just doesn't fit correctly! This is good, and bad! I am happy with my lighter weight, but I am sad that nothing fits. I had a freind come over and we took lots of pictures of how baggy everything was. Out of all of it, there were two costumes that were just going to be too much trouble to take in., one costume I was unsure about, one that kind of mostly fit, but had uncomfortable shoes, two that would fit with minor but time-consuming alterations, and one that fit just fine.
Out of all of those.. I'd thrown away the shoes for three of them, did not have the wig for one of them, not sure where the wig was for a different one, and had major repairs to do on a third. (Texas heat is not condusive to the health of props made with any kind of thermoplastics; ie hot glue)
Here's an example. This one, I consider beyond repair. I don't know. I could put a lot of work into taking the dress in, but the placard on the front needs to be a little narrower now, and there's no easy way to do that. It's lined/ backed/whatever, with trim and buttons and binding. Also, the boot cuffs are too large (though the boots don't fit quite right.. go figure), so I'd have to take them apart completely and remake them to get them to fit. It would be too much work. The dress needs like 6 inches taken out of the bust/waist/hips. It's freakish. I can't even imagine my stomach was that big 4 years ago. But apparently it was!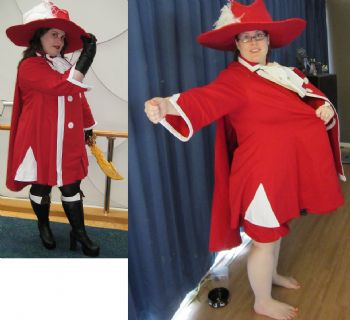 That's probably the most extreme case of just baggy everywhere. That dress used to be pretty fitted down to the hips, then free and ripply and awesome all the way down. Now it's a tent!
If I go to this con on labor day.. I should have enough time to take something in, but I'll have to figure out where to set up the sewing machine, find all my stuff, etc. I don't have any desire to make anything from scratch right now while my weight is in flux. If I did, it wouldn't fit properly next year, so I'd only get one wearing out of it. I ususally go for 3-4. That lets me wear it to two different cons two years in a row, which is decent. There are a few different conventions in Texas, but most of the same people go to them every time, so they get to see it a lot. I'm sure other people don't mind, but I like to change it up!