For some reason the link to The Rainbow Connection in my last blog isn't working, no matter what I do. Seems my links box on SP is hiccupping on me. So if you go to You Tube and look up 'Muppet Movie - The Rainbow Connection', you should find the song in full at the top of the list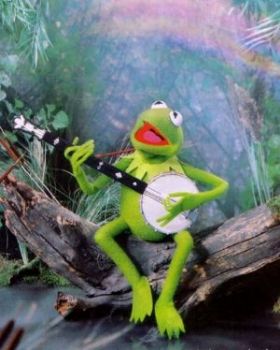 Well, I am back home, minus pints of sweat from the long hot walk, but relieved to know that nothing iffy showed up in the Ultrasound Scan.
No kidney stones, and bladder is filling and emptying normally -- Check!
Two ovaries, one playing peekaboo behind my womb, but no sign of anything dodgy there either -- check!
Had to be walked to the appointment, walked to the toilet, and walked out, because the new medical centre is open plan, with glass walls everywhere, and the ultrasound room is upstairs, and over a glass-sided walkway, causing my Vertigo to kick in! -- Check!!!
Pain starts when I'm on my way home -- Check!!!
Oh the irony!!! LOL
Next stop is the Barium Enema, the joy of which starts next Wednesday - my 'white flavourless food and jelly day'. Followed on Thursday by my 'Turbo Laxative Day', and culminating on Friday with the Enema itself, after which I will likely need to go to bed to rest up. Not thrilled to have my daughter's MIL say that she knows someone who had this done recently and it was "Horrendous!" Daughter's MIL is a surgery receptionist! *gulp*
I told Bry that it is a good job she's coming up to be with me through the whole thing, because - given my track record - I'd be trying to wriggle out of it, saying things like.. "The pain's not that bad... really... I can handle it" *cry - scream - tearing out of hair* "I don't need the enema., I tell you!!" *while bent double with pain*
I also told her that when she comes up she needs to bring a gas mask with her, and a very large box of matches!!!

Thursday won't be a lot of fun for anyone in this house within sniffing distance! LOLOL
I've got my wellies on standby Anne! Thanks for those. LOLOL
I've loaded up the bathroom with more suitable reading material for the duration. Some more Pam Ayres, Richard Gordon and Alan Coren to while away the time. :-)
Would that I could write a poem about barium enemas. I'll have to put my thinking cap on. Now... what rhymes with 'enema'?
Enjoy the hot weather. I will, now that I don't have to walk anywhere in it.
Hugs,
Lex xxx