Where to start?
MY MAN has left for the remainder of the week.
No, I am not quite that excited but I think/hope some time away will do us both good. I am still on a funk from what he said. It eats at me. I don't know if it was that that I am insecure & clingy or was acting insecure & clingy. (Which I wasn't!!!)
Wow, do I sound like a 2 year old or what. Ug!
I may have to talk to him about all this. I'll have to see if this is still eating at me. I have been keeping my distance. At lunch yesterday we just talked about the acreage. NO work talk.
That seems to be the trick. For years now, over and over I have learned NOT to talk about work. I need to remember that and just stop. I will have to just talk with you.
I think I will rent some movies. I like to do that when he is away.

Any suggestions

UTAH is finally getting to be himself again. It took a full week. No more seizures and his personality is back. Thank goodness.

He is spending more time with me on the bed in a guest bedroom.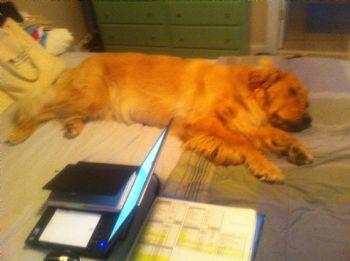 He has fallen off twice. Not good I know! He is just a big ol' boy.

WEIGHT
I was somehow down to 111.8. It felt amazing Now I am back to 112.8. So what is the real plan???

Drink more water. I am still bad at this.

Log more miles on the treadmill. This is really key!



Eat fruits and maybe even some veggies.

Remain positive.

SNACKING. This seems to be a killer for me. I never think it is bad at all but I guess it really adds up.
Well, gotta run. Have a great Tuesday!

Remember to be you!