Monday, July 23, 2012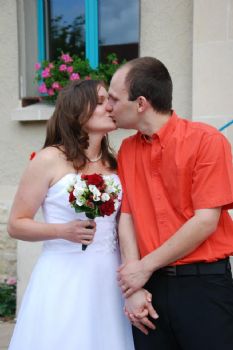 Axel and I are now married! July 21 was the date of our official marriage and French celebration. We will be having an American reception later so that I can celebrate wiht my family and friends. It was a gorgeous day, everything turned out perfectly, and the red wine I spilled on my dress came out quickly with some cold water and salt *whew!*
I awoke and weighed myself (just curious) and the scale showed me at 62.5 kg, which is about a 1 lb loss. I'm *completely* fine with that! haha! Then again, after everything I ate Saturday and Sunday, I highly doubt that this 1 lb loss has stuck.
I'm going to share my absolute favorite picture with you all, because it's hilarious:
*Edit* -- So apparently this picture isn't as clear as it was on Facebook. There's a bit of a "cloud" just in front of us. That "cloud" is the combination of several handfuls of rice being tossed at us. I don't know who took this picture, but they got an excellent shot! There is some genuine fear on my face, and I'm pretty sure that there is still rice in my dress.